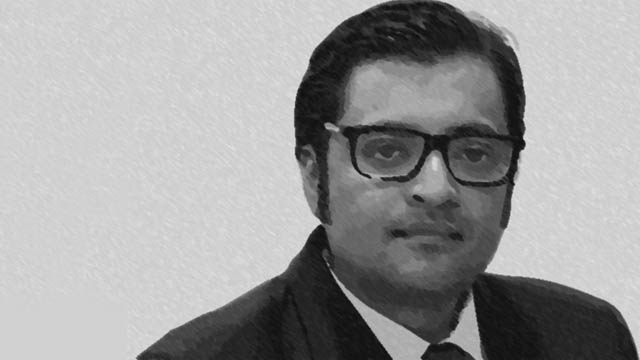 Arnab Goswami's arrest: Nothing to grief or cheer for
Reading Time:
6
minutes
If his regular prime time kerfuffle wasn't enough to contribute to India's noise pollution, the cacophony over Republic TV's rabble-rouser anchor-cum-editor Arnab Goswami's arrest has worsened the situation further. Goswami was arrested, along with two others, by Maharashtra's Raigad Police in the wee hours of Wednesday, November 4th 2020, from his residence in Worli, Mumbai, on charges of abetment to suicide of a 53-year-old interior designer and his mother in 2018.
The loquacious Goswami is infamous for his strident rhetoric and pugnacious nature. He is a servile lap dancer of Prime Minister Narendra Modi's Hindutva fascist regime and one of the ruling Bharatiya Janata Party's (BJP's) unofficial English-speaking rabble-rousers. From being an opinion-maker, influencing drawing rooms of urban and elite India in the late 2000s, Goswami became a vocal right-wing proselytiser since the Modi's ascension.
Goswami's arrest is an outcome of hostility between him and the Maharashtra Government led by a coalition of Hindutva fascist Shiv Sena, soft Hindutva fascist Congress party and the feudal Nationalist Congress Party (NCP). Goswami's regular vilification of the Congress party has irked it and its accomplices. He became scorn for the state government when he began a vicious campaign against it, starting with the lynching of two monks by tribal men who mistook them for child-lifters during the peak of the lockdown period.
He also fuelled controversy by spraying vitriol against the Hindi film industry when a popular actor committed suicide in June. Goswami demonised the deceased's girlfriend and others on his channel through unbounded virulence. Goswami has been titillating his audience to build a mass opinion in favour of the BJP, which lost Maharashtra due to the manoeuvring by NCP patriarch Sharad Pawar in October 2019. Lately, Goswami was charged in a case of TRP scam by the Mumbai Police, after which he incessantly fired salvo targeting Param Bir Singh, the city police's commissioner.
Now Goswami is arrested, along with Feroz Shaikh and Nitesh Sarda, under sections 306 (abetment of suicide) and 34 (acts done by persons in furtherance of common intention) of the Indian Penal Code (IPC), in a 2018 case. Anvay Naik and his mother were found dead in their Kavir Village farmhouse in Alibaug. Naik owned an interior designing and architectural firm named Concorde Designs and had worked for the Republic TV's studio decoration. He had alleged in his suicide note that Goswami didn't pay him his due of Rs 8.3m, while Shaikh and Sarda also didn't pay him his dues. Collectively, he had Rs 54m unrecovered from these three.
Though a case was lodged in 2018, it was not pursued by the police due to Goswami's closeness to the then-ruling BJP. However, after he started vilifying the Maharashtra Government since mid-2020, the state's home minister, Anil Deshmukh, declared that the government will reopen the 2018 case and hand it over to the state's CID. The Raigad Police didn't make noise about its plan to arrest Goswami.
While the arrest was a high-voltage drama––quintessential Arnab Goswami––and Goswami pretended to be a "journalist", and the Editors Guild called his arrest "distressing", the fact is, of course, the opposite. Neither Goswami has any connection with journalism nor this arrest is an "attack on the press". It's a normal arrest under the IPC for a criminal offence. If convicted, Goswami may have to spend up to ten years in prison; not for his content, his hate-speech, or demonisation of people, communities or political outfits, but for cheating someone of their money and pushing them to commit suicide.
But remaining loyal to their character, the BJP leaders, Hindutva fascist rabble-rousers and the Modi regime's megaphone television anchors are condemning Goswami's arrest by calling it an attack on "press freedom". Though Goswami isn't arrested for any content of his show, which has no connection with journalism, or for any hate-speech, the Hindutva fascist camp is turning him into a martyr of its crusade against "jihadi" Muslims, the left and seculars.
Though "press freedom" and the BJP is an oxymoron, yet, the term is used in galore to praise Goswami's "valour", which is exemplified by his ranting on television screen every night. If irony didn't die, then Union Home Minister Amit Shah and Uttar Pradesh Chief Minister Yogi Adityanath arrived to give it a fatal shock. In a statement, Shah criticised the arrest of Goswami as an attack on "press freedom". This comes from the same man under whose party's rule India stands at 142 in the Press Freedom Index, the only consolable fact is India ranks higher than Pakistan and Bangladesh, but lower than Nepal and Bhutan.
Shah's Delhi Police arrested several writers, activists and student leaders like Sharjeel Imam, Umar Khalid, etc, on fake charges and slapped them with the draconian Unlawful Activities (Prevention) Act (UAPA). Shah's feral men are expert in trolling and vilifying, as well as killing––like in the case of the murder of Gauri Lankesh, MM Kalburgi and Narendra Dabholkar––journalists and writers who criticise Hindutva fascism or corporate aggression on water, forests and land.
Similarly, the National Investigation Agency, controlled by Shah, has slapped UAPA against journalists, writers, poets, intellectuals, lawyers and activists vocal for the rights of poor people under the infamous "Bhima Koregaon" case. People like Sudha Bhardwaj, Dr Shoma Sen, Varavara Rao, Rona Wilson, etc, languish in the jail on terrorism charges, but Goswami becomes the "victim" of "state repression" for those who worship turncoat, police approver VD Savarkar as a "freedom fighter".
Yogi's sclerotic regime in Uttar Pradesh is infamous for gagging dissent and persecuting journalists critical of the BJP. The rabble-rouser monk-turned-chief minister's government has imprisoned many journalists, lately Prashant Kanojia, for doing their job– reporting facts. Something that the BJP's lackey Goswami and his ilk can't ever dare to do. Yet, Adityanath is crying foul over Goswami's arrest. In case there was a Nobel Prize for the double standard, then there would've been no reward on guessing who would get it.
If the BJP's response was predictable and its raucousness is too trite, then the ridiculous attitude of the "liberal" opponents of the Modi regime isn't surprising as well. The social-media warriors against the Modi regime's Hindutva fascist juggernaut began celebrating the arrest of Goswami, calling it a positive move. Their hypocritic stance on Goswami's arrest made them a subject of ridicule for the Hindutva agents.
Though it's a commendable thing that the Maharashtra Police acted against the powerful television anchor after Deshmukh ordered to reopen the case, it's not something that signals any setback for the Hindutva fascists. One can't forget that the Maharashtra Government is led by a Hindutva fascist entity like the Shiv Sena, which has a long history of spilling blood of Muslims on the streets. Goswami's arrest by the very state that unequivocally professes Hindutva fascism as its ideology can't be praised as a revolutionary development.
Those who are happy over Goswami's arrest by the Maharashtra Police are the same who wouldn't come out to protest the state terror against the dissenting voices or gagging of Kashmir, actions that this television anchor and his fraternity endorse. They won't fight for the release of democratic, progressive and anti-fascist people, imprisoned by the state under draconian laws. They won't support the political struggle to ensure that the Dalits, the tribal people and Muslims can be protected from police atrocities throughout India.
This orgasmic and sadist pleasure over the arrest of a hate-monger in a mundane case exhibits the hollowness of liberal politics in India. It's an enabler of fascism and that's more visible when the state machinery is run by a force they support. Rather than booing Goswami, who is in custody and will use his privileges to escape punishment, after playing the victim card, what these people should've done is fought against the police terror against real journalists, mobilised mass movements demanding the release of all prisoners implicated by the Brahminical-feudal state. They should've demanded an end of the UAPA and other draconian laws.
But alas! Instead of waging an effective and real struggle against fascism, these privileged lot and a lot of their so-called left companions are enjoying the heat sitting beside the fireplace. It's imperative to propagate the importance of fighting back against the attack on real "press freedom", which is happening in Assam, Delhi and Uttar Pradesh. It's imperative to mobilise the people against the evil corporate-media-Hindutva fascism nexus. It's imperative to tell the people which class and caste blocs these television anchors, hanging Che Guevara's portrait in their drawing rooms, represent.
The attack on "press freedom" is a real issue in India, infamous for gagging and censoring critical media and journalists. The absolute hegemony of corporate houses on the editorial policy of newspapers, television channels and digital media has made it impossible for fair journalism to survive. It's painted yellow all over and servility towards the Hindutva fascist regime has become the standard norm for survival.
Goswami's arrest or the boycott by Bajaj Auto and Parle of hate-mongering television channels won't bring any tectonic change in the Indian corporate-controlled semi-colonial and semi-feudal press. The real change can come only through a real struggle that aims at uprooting cancer, rather than treating it with cosmetics. Until a nationwide movement against Hindutva fascism and its agencies is built, the ilk of Goswami and other hate-mongers, who don journalist's attire, can't be defeated.
An avid reader and a merciless political analyst. When not writing then either reading something, debating something or sipping espresso with a dash of cream. Street photographer. Tweets as @la_muckraker