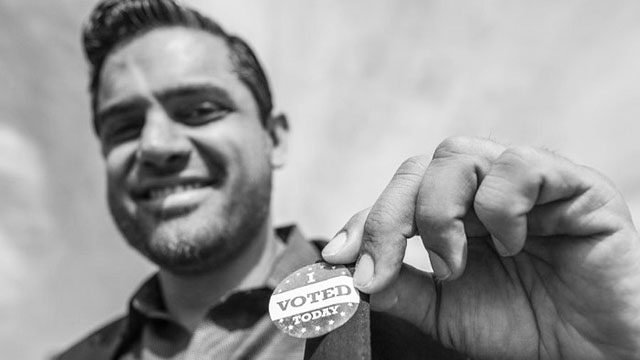 Sri Preston Kulkarni and Hindutva's Hub in Houston
Reading Time:
4
minutes
As India's political battles rage fiercer than ever under Indian Prime Minister Narendra Modi's administration, they are spilling over into Houston.
Sri Preston Kulkarni is an ex-diplomat who now finds himself in one of the country's most competitive congressional races during his second campaign to represent Texas's 22nd district. Yet Indian-American disputes over the polarizing Modi — and his Hindu nationalist agenda — have thrown a curveball into the race. At issue is Kulkarni's association with Ramesh Bhutada, a local business magnate whom he describes as "like a father to me."
Houstonians last saw the conflict over Indian politics play out in their city during the September 2019 "Howdy, Modi" reception. While the extravaganza inside the NRG stadium drew 50,000, up to 15,000 in the streets outside raised chants of "Modi, Modi, you can't hide, you committed genocide" — a reference to Modi's alleged role in a 2002 anti-Muslim pogrom, for which he was banned from entering the US until he became prime minister. Although four of five Indian-Americans in US Congress skipped the controversial event, Kulkarni attended.
Bhutada was a main mover and shaker behind "Howdy." He was a patron, his son Rishi was the official spokesperson, and his brother-in-law and business partner Jugal Malani chaired the organising committee. The family's central role in the event was predictable considering their active involvement in India's electoral politics.
In 2014, Bhutada oversaw a 700-person phone bank of volunteers who called from Houston to India to sway voters to support Modi's Hindu nationalist Bharatiya Janata Party (BJP). His cousin-in-law and fellow activist, Vijay Pallod, even joined a team of 30 who travelled to India to campaign for the BJP. When the BJP's Modi was elected in 2014 and re-elected in 2019, Bhutada and associates organised victory parties in Houston.
"My identity is of a Hindutvavadi," says Modi, meaning he is a proponent of "Hindutva," which Amnesty International defines as a "political ideology of an exclusively Hindu nation." That's the common cause uniting him with his Indian-American support base. Modi is a lifelong member of the Rashtriya Swayamsevak Sangh (RSS), a paramilitary which provides the BJP's muscle power. Bhutada, who praises Modi's "upbringing in the culture of RSS," is Vice-President of the Hindu Swayamsevak Sangh USA, the American counterpart of the RSS.
Not only has Bhutada actively campaigned for India's BJP, but he's a major donor to various political campaigns in the US.
For instance, he and Pallod hosted Houston area fundraisers for Congresswoman Tulsi Gabbard. The two (along with their immediate family members) have donated over $41,000 to her campaigns for Congress and President. Before Modi was elected, Gabbard worked to derail congressional efforts to highlight the rising problem of Hindu nationalist violence in India. Speakers at several victory parties organized by the Overseas Friends of the BJP — a registered foreign agent controlled by BJP officials — urged celebrants to donate to her in gratitude. One speaker argued they should support her because Modi could only succeed if they "influence the foreign policy makers in the United States."
For supporters of Modi, the ideal US foreign policy towards India is one that turns a blind eye towards human rights violations.
That's what BJP officials want — at the threat of foreign interference. In February, for instance, Senator Bernie Sanders denounced "widespread anti-Muslim mob violence" in New Delhi, criticizing President Donald Trump's comments on the issue as "a failure of leadership on human rights." That prompted BJP General Secretary BL Santhosh to snap back, "How much ever neutral we wish to be you compel us to play a role in Presidential elections."
The Bhutada family incentivizes such "failure of leadership on human rights." In July, they donated $8,400 to Rashida Tlaib's primary challenger after the Michigan congresswoman introduced a resolution condemning human rights violations in Kashmir, India's only Muslim-majority region which Modi's government annexed a month before "Howdy." Although Sanders himself, a day before the mega-reception, warned against "a deafening silence when it comes to a human rights crisis unfolding right before our eyes," the Bhutadas appear intent on sidelining critics of Modi.
"If we don't have the moral courage to speak up when we see this happening in front of us, like some of our political leaders, then we don't deserve to be in office," said Kulkarni on the first anniversary of the Charlottesville Nazi rally.
Kulkarni has been outspoken against rising extremism in America, yet silent about the current situation in India. That's surprising considering his 14-year US Foreign Service career is his primary qualification for office. If elected, he appears poised for a Foreign Affairs Committee assignment, but one wonders what he would do in such a position considering his staunchest backers are the Bhutadas.
"Without them, this campaign literally could not have happened," said Kulkarni when he first won the Democratic Party's nomination in May 2018. "They have been pushing so tremendously hard…. Ramesh Bhutada has been like a father to me on this campaign." Pallod explains, "We raised $30,000 to get his campaign off the ground in the first month…. Ramesh met with community stalwarts, regardless of their party affiliation, to bring their financial power to help Kulkarni."
Bhutada's support for Kulkarni is causing a split in TX-22's large Indian Muslim community. Many, despite being lifelong Democrats, are reportedly breaking party ranks and throwing their support behind the Republican because they view Kulkarni — whose donors include at least 45 "Howdy" organisers — as RSS-backed. As the Kulkarni drama plays out, it vividly illustrates how Houston is becoming ground zero for the struggle on US soil over politics in India.
The US is grappling with questions about foreign interference by Russia and now even by China. Debates over Israel's influence over US politicians have raged for decades. Is it time to start paying attention to the role that India — or, more specifically, India's ruling BJP — has played and seeks to play in US elections?
This article was first published by the author on Medium.
Pieter Friedrich is a South Asian Affairs Analyst who resides in California. He is the co-author of Captivating the Simple-Hearted: A Struggle for Human Dignity in the Indian Subcontinent. Discover more by him at pieterfriedrich.net.