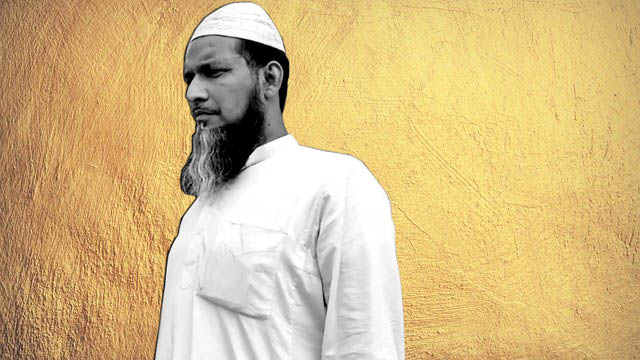 Asansol riots victim Sibghatullah's father Imam Rashidi's quest for truth redefines our times
Reading Time:
4
minutes
West Bengal's Asansol is an industrial town bordering Jharkhand. Asansol's Railpar area, which is north of the Howrah-New Delhi railway line, has several quintessential Muslim ghettos with the postfix "Mohalla". On March 28th 2018, the Railpar area experienced massive communal violence after a Ram Navami procession raising Islamophobic slogans reached Muslim ghettos and started berserk. As Hindutva fascism-incensed non-Bengali thugs started pelting stones at mosques and Muslim houses, the scared Muslims ran for cover. Amid this chaos 16-year-old Mohammad Sibghatullah, son of the cleric of the local Nurani mosque, went missing. His lifeless, bruised body was later recovered from a drain.
Four years later, on Friday, March 25th 2022, two prime accused in Sibghatullah's murder case, Pintu Yadav and Vinay Tiwari, were acquitted by Asansol's Additional District Judge Sharanya Sain Prasad after the prosecution's principal witness, Mohammad Imdadullah Rashidi, the father of the victim, refused to identify them as the murderers of his son. Rashidi, who shot to fame during the peak of communal violence by spreading the message of harmony and forgiveness, rare substances in a country toxified by institutional bigotry, claimed that as he didn't see the duo killing his son, therefore, he can't testify in the court against them.
Upholding his Islamic faith, the Imam (cleric) said that he can't go against "truth" and testify against Yadav and Tiwari because he didn't see them kidnapping and murdering Sibghatullah, who wrote his standard ten board exams at that time. "I haven't seen who had kidnapped and murdered him, so I can't testify lie", Rashidi said. The police had arrested Yadav and Tiwari in connection with the crime after they found a baseball bat near Sibghatullah's dead body. The duo allegedly recognised the boy's body in Asansol District Hospital's morgue. After spending a year in jail, the duo got bail in 2019.
"Allah will deliver real justice. It's the police's responsibility to arrest the real culprits. I didn't see anyone kidnapping or killing my son with my own eyes. So, I can't go to court and give false testimony. I've always fought for truth and want to live with truth as an Imam. Therefore, I never named anyone to the police. Some of the family members of those who were arrested came to me. I had told them that I won't say what I didn't see myself. If they have not sinned then they shall get acquitted under natural rules," Rashidi added.
Rashidi became famous when he told the enraged Muslim youth who gathered for his son's funeral in 2018 that if they try to avenge his son's death then he'll leave Asansol forever. His threat desisted the Muslim youth from falling into the trap laid by the Hindutva fascist thugs associated with the Rashtriya Swayamsevak Sangh (RSS), who wanted to burn down Asansol using a communal conflagration. While Babul Supriyo, who was then a Union minister of state and Asansol's member of the Parliament, threatened the Muslims with dire consequences, Imam Rashidi's message of peace and harmony exhibited humanity and compassion.
With his recent deed, Rashidi has again won the hearts of the people of Asansol, or at least the Bengali-speaking, the non-communal section of Hindus, especially those who have been following the updates of the cases related to the unprecedented communal violence that shook the foundation of communal harmony on which the city had survived for decades. It's indeed an act of honour and exceptional valour for someone to stand for peace, amid conflicts, and for truth when falsehood reigns. However, the Imam's stance also raises a few crucial questions, which the state government can't escape from answering.
The Imam was right. It wasn't his duty to arrest and prosecute culprits, but the state's. However, why did the state fail to investigate the Asansol riots in all these years? Why couldn't it gather required evidence to prove in the court of law that the accused were complicit in Sibghatullah's murder? Why the Asansol-Durgapur Police, which is under Chief Minister Mamata Bandopadhyay's command, didn't act boldly against the criminals, especially the RSS leaders who incited violence, in all these years? Why no Bharatiya Janata Party (BJP)—the RSS's parliamentary wing—leaders, including Supriyo, were ever investigated or prosecuted?
Sibghatullah had left the world in quite an early stage, but he wasn't the last one. Many Muslims had died in the last few years in West Bengal due to communal violence or hate crimes committed by not only RSS-affiliated goons, but also by those affiliated with Bandopadhyay's ruling Trinamool Congress (TMC). From student leader Anish Khan of Howrah district, who was allegedly killed by uniformed policemen in February, to Midnapore's Sheikh Poltu, a mason, who was lynched on March 15/16th, the killing of the minorities is continuing unabated in the state. The Rampurhat massacre is the recent addition to the list.
Sibghatullah may have been killed by the RSS-led Hindutva fascists to provide electoral leverage to the BJP and Supriyo. However, he didn't die in a BJP-ruled state. He was killed in a state ruled by a self-styled anti-BJP crusader like Bandopadhyay, who never hesitates to fire a salvo at Prime Minister Narendra Modi's Hindutva fascist regime. Even after his death, in a year he would've turned 20, Sibghatullah didn't get justice because the police didn't do their job properly. Yet, the hapless Muslims are bound to vote for the TMC because only it can apparently "save them" from the BJP!
Now, when Babul has changed camp and joined the TMC, and when he is seeking votes in the Muslim-majority Ballygunge constituency for the forthcoming assembly bypolls, he is considered kosher by the ruling party. There has been absolutely no criticism of Supriyo's obnoxious role in fomenting the Asansol riots. The police, who once considered Supriyo as an accused, will remain tight-lipped regarding the failure in investigating the case. The media will hail Rashidi's statement and canonise him as a saint. In the meantime, former BJP leader and actor, Hindutva fascist Shatrughan Sinha is contesting Asansol Lok Sabha bypolls as TMC's candidate.
This way, as political chicanery and acrobatic stunts by politicians like Supriyo and Sinha will amuse the people, victims like Sibghatullah, Khan or Sheikh will never receive justice. The illusion of justice doesn't prevail among the minorities anymore. They are realising the threat posed to them by Bandopadhyay's TMC. The Rampurhat massacre remains a stark reminder that West Bengal is standing on a blood-stained foundation. As the government failed to provide evidence against those accused of killing Sibghatullah, it's clear that the Asansol riots files will be thrown to oblivion, especially when the alleged mastermind Supriyo is in the TMC.
An avid reader and a merciless political analyst. When not writing then either reading something, debating something or sipping espresso with a dash of cream. Street photographer. Tweets as @la_muckraker