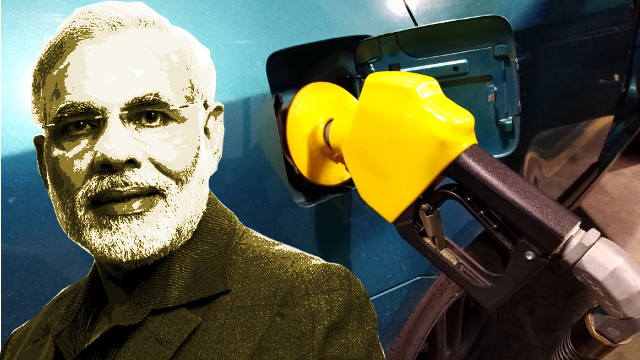 Marketing Management for Saudi Arabia: The Significance of Kotler's Fishy Award to Modi
Reading Time:
7
minutes
Philips Kotler is a renowned marketing guru, whose book Marketing Management functions like the Bible for students of management. There are very few books that can so vividly, yet so easily describe the nitty-gritty of marketing to a graduate student as would Kotler's book. Recently, this very Philips Kotler is in news for accolading the Indian prime minister with a Kotler Presidential Award for Visionary Leadership, which was given by the World Marketing Summit's India chapter through an Aligarh-based firm- Suslence Research International Institute, whose address wasn't found in Aligarh when one news channel tried to reach them.

Many controversies have surrounded the award and an investigative report by The Wire shows a connection between Wahhabi Saudi Arabian petroleum lobby and the WMS award, in which a Saudi company SABIC, which is trying to foray into the Indian energy sector, is found playing a big role.

Anything or everything related to Prime Minister Narendra Modi is controversial because at the end of the loop there are always the interests of big corporations embedded in them. From the notorious Ambani brothers to the economic offenders like Nirav Modi or Mehul Choksi, name someone with dubious business interests, cronyism and tax evasion, Narendra Modi's name will pop up as an accomplice, direct or an indirect one. His tryst with the Saudi Arabian monarchy, the official promoters of Wahhabism, the root of 'Islamic terrorism' that Modi's paternal organisation RSS and his Hindutva fascist party BJP calls an enemy of India, is also quite interesting and thrilling.

After becoming the prime minister in May 2014, Narendra Modi started an incessant foreign tour series, under which, by spending more than Rs 20 billion from public exchequer he made 48 tours until November 2018. Modi went to the Kingdom of Saudi Arabia for an official tour on 2-3 April 2016, where he and his delegates had a series of meetings with the Saudi monarch and his ministers and then Crown Prince Mohammed bin Nayef.  

It's an irony that Narendra Modi, whose party BJP and its paternal organisation- the RSS- despise Wahhabism and Salafism, consider it as a root cause of 'Islamic terrorism', which is called the principal threat to India's national security, not only danced to the tunes of the Saudi monarchy, but he also offered the regime an opportunity to invest in India so that it can divest its economy amidst a volatile oil economy. During that visit, Narendra Modi was accoladed with The Abdulaziz Sash (Order of King Abdulaziz) – the civilian order of merit given by the regime to those who serve its interests within and outside the kingdom.

This award came to Narendra Modi after 14 years of him watching over a state-sponsored anti-Muslim pogrom in Gujarat during his tenure as the chief minister of the state. The Gujarat anti-Muslim pogrom killed nearly 2,000 Muslims and his party and the RSS also launched a massive anti-Muslim pogrom in Muzaffarnagar of Uttar Pradesh in the year  2013, in which they butchered numerous Muslims to polarise Hindu voters before the Lok Sabha election of 2014. This award was given by the very regime that calls itself the custodian of Islam's holy shrines and also follows a strict Islamic code of conduct, which is extremely reactionary, misogynist and regressive in nature.

Why this award was given by the Saudi Arabian monarchy to an anti-Muslim rabble-rouser? Is this merely a diplomatic gesture? Can the Saudi Arabian monarchy accolade the Zionist terrorist Netanyahu with such an award without drawing the ire of its allies though it maintains a secret affair with the Zionist Israel? If not, then why choose Modi? The answer lies in the billions of dollar worth Indian market, which was then clocked at a high GDP growth rate. The Saudi petrodollar needs the Indian market and government support to flourish in its divestment programmes, and in this deal, Narendra Modi and the BJP came to its rescue.

While The Wire found a Saudi Arabian petrodollar link in the Kotler Presidential Award given by WMS' Indian chapter to Prime Minister Narendra Modi through an Aligarh-based fictitious firm, both Modi regime and the Saudi Arabian monarchy have been signalling a gradual warming up between the two states, which officially promote bigotry and also abet violence against common people, during different occasions.

During his visit to India in October 2018, the Saudi Arabian Oil Minister Khalid al-Falih attended the India Energy Forum, which has the biggest oil and energy sector corporations as its members. In the event, Khalid al-Falih didn't shy away from praising Narendra Modi, his so-called 'Acche Din' promise that has become his nemesis and the economic policies of the government, which have catastrophic effects on the Indian economy.

Narendra Modi was praised because Khalid al-Falih minced no words to mention that the Kingdom of Saudi Arabia will invest in the Indian market, which means that the petrodollar of Riyadh will now officially exploit Indian labour and resources.
In the India Energy Forum, the Saudi minister said:
"My frequent visits to India are indicative of the importance Saudi Arabia attaches to this great nation as a critical energy and a strategic global player…"(sic)

Khalid al-Falih declared that the Saudi Arabian national company Saudi Aramco, in association with the Abu Dhabi National Oil Company (ADNOC) is signing up for 50 per cent stake in the proposed $44 billion-worth and 60 million tonnes Ratnagiri refinery and petrochemical complex in Maharashtra.

The SABIC, which is directly linked with the founder of Suslence Research International Institute in Aligarh and the WMS, is also intending to invest money in India to divest the Saudi economy. Khalid al-Falih told the audience at the India Energy Forum that the Saudi Arabian monarchy is also interested in opportunities in retail fuels, petrochemicals, "building an integrated downstream business spanning India as well as our commitment to invest in crude oil storage here in India…".

The government has announced the building of two massive strategic storage facilities to hold 6.5 million tonnes of oil costing around Rs 11,000 crore through a joint partnership between state-owned firms and private companies. The SABIC is seeking an opportunity in this opportunity as well and it means a lot of palms in the BJP, the RSS and Narendra Modi's cabinet will be greased by the benefitting Wahhabi terror sponsors. So much for nationalism by Modi and his coterie.

This prospective business opportunity made Khalid al-Falih praise Modi's 'Acche Din' (better days), as promised to the nation in the 2014 general election, by saying that 'Acche Din' are here for the Saudi Arabian monarchy as they get more access to the Indian market and an opportunity to multiply their petrodollar manifold through unbridled exploitation of the Indian labour, resources and by polluting India.

Diplomatically, both Wahhabi Saudi Arabia and the Zionist Israel are the biggest despotic neo-colonies of the US and its military outposts working in tandem to suppress the democratic aspiration of the Arab people, thwart the attempt to liberate Palestine from Zionist occupation and to establish CIA's puppet regimes in Iran and Syria.

Both Wahhabi Saudi Arabia and Zionist Israel had invested billions of dollars to raise Islamic Jihadi terrorist forces like the ISIS and Al Nusra to topple the government of Syria on behalf of the US, which the Syrian people and their legitimate government thwarted successfully with support from Russia and Iran. Hence, both Saudi Arabia and Israel are now determined to weaken Iranian influence in the region, isolate Russia and help the US to strengthen its occupation, direct and indirect in the region.

Apart from launching a monstrous war on Syria in collaboration with the Zionist Israeli and the US-funded and trained terrorist organisations, the Wahhabi Saudi Arabian kingdom is also complicit in one of the most monstrous wars of our time that's even censored by the media houses.

Since 2015, the Wahhabi Saudi Arabian kingdom launched a brutal war against Yemen, killing thousands of men, women and children on a regular basis. The macabre nature of economic blockade against Yemen by the Saudi Arabian monarchy has created a severe humanitarian crisis in Yemen.

The Modi regime is a staunch ideological and diplomatic ally of the Zionist Israel and despite Modi's balancing lip service on India's usual rhetoric on supporting a 'two-state solution' for the Palestinian state, it's an open secret that the Indian ruling classes are unashamedly supporting and glorifying Zionist Israel and its oppressive system.

Hindutva fascism, the guiding ideology of Narendra Modi and his cabinet, derives its ideological inspiration from the Zionist movement that claims that people of religion form a nation, apart from being inspired by the fascist movement of Italy under Mussolini and the Third Reich of Nazi Germany under Adolf Hitler, both of whom are unapologetically eulogised and idolised by the RSS and its progeny organisations.

As the Indian state is helping the Iranian government to build the Chabahar Port, which is supposed to play a significant role in shaping future geopolitics of the entire Gulf region, the US puppets like the Zionist Israel and the Wahhabi Saudi Arabian monarchy are trying to pull India out of its engagement with Iran and tie-up with them.

Zionist Israel already has a strong diplomatic, military and political tie-up with the Hindutva fascism-led Indian state. The Wahhabi Saudi Arabian kingdom is also trying to walk the road of its allies and intrude deeper into the energy and other sectors of India. Through this increasing engagement, they will try to distance India from their common foe, the Iranian government.

Soon after Khalid al-Falih's visit, Narendra Modi went to the G20 Summit in Argentina in November 2018, where he had a long discussion with the notorious Crown Prince of Saudi Arabia, Mohammed bin Salman, over the Wahhabi Saudi Arabian investment in an economically dry India, which has no promising growth rate, opportunity or even employment vis-a-vis the rates of 2016. Following this meeting, Narendra Modi's regime allowed the WMS to conduct a programme in December, which was also sponsored by Modi's close ally Ramdev's Patanjali.
Leaving apart the dubious selection process for Kotler Presidential Award, about which many media outlets have investigated and published stories like this, Philips Kotler's World Marketing Summit is actually a lobbying group, using which its franchise outlets try liaison with local governments and corporate houses, especially in Asia.

Since its formation, behind the heavily decorated manifesto of fighting poverty to reach the Millennium Development Goal of the UN, the WMS is merely a liaisoning organisation that's trying to carve its niche among the famous forums and think-tanks that help corporations with business networking and deal brokering opportunities. To gain power and influence they often bestow politically important figures with dubious honours and awards.

The first ever Philips Kotler Presidential Award for Visionary Leadership to Narendra Modi is an integral part of the Saudi Arabian petroleum lobby's effort to gain further access to India's ever-expanding energy sector. For the Modi regime, this award, given by a firm based in Aligarh with no real physical presence and whose website and Twitter account along with the Linkedin profile of its founder were found deleted when they faced the heat of public criticism, can still be used to hoodwink a major section of urban middle-class by portraying it as a special recognition of the prime minister's 'leadership qualities' by a renowned management guru during the election season.
It's a normal thing in India to find big corporations and foreign governments intruding into the country to occupy its market or exploit its resources and labour for profiteering, however, never before this had happened by publicising and glorifying the event. The Modi regime's attempt to glorify the Saudi Arabian petrodollar's strengthening of grip on Indian energy sector with an award that has questionable credentials, itself proves that this government and its prime minister would never let any incident pass away without using it for PR and marketing gains.

The award bestowed upon Narendra Modi by Philip Kotler's WSM should have been named the Best Political Marketing Expert of the 21st Century or something related to PR and marketing as it would have done justice to Modi's effort to create a halo of invincibility around him through his incessant propaganda campaigns. It would have been better if Philips Kotler, the marketing guru, could learn a thing or two from this narcissist despot who is using marketing as a tool to tackle problems of unemployment, agrarian crisis, corruption and economic crisis. The next editions of his Marketing Management must include a chapter on how to dupe the common people by a cult creation following the Modi-way.

An avid reader and a merciless political analyst. When not writing then either reading something, debating something or sipping espresso with a dash of cream. Street photographer. Tweets as @la_muckraker