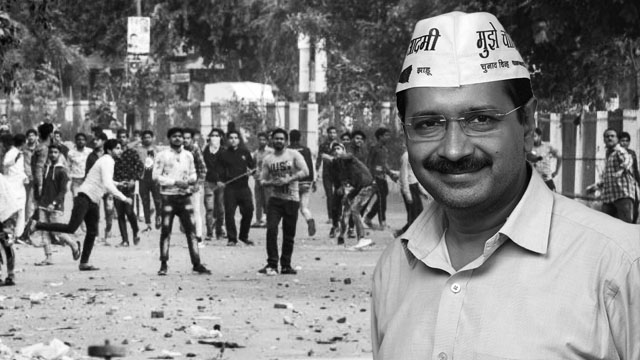 Kejriwal's silence on Delhi's anti-Muslim pogrom is not just petty but alarming
Reading Time:
3
minutes
It's not even a month when results of the Delhi Assembly election 2020 was announced where Aam Aadmi Party (AAP) returned to power with a landslide victory, bagging 62 out of 70 seats. The more commendable accomplishment of the party was that it reduced its opponent Bharatiya Janata Party (BJP) to a single digit (eight seats) in a bipolar contest. 
Delhi witnesses a polarised election campaign where Prime Minister Narendra Modi's BJP centred its campaign around labelling the Shaheen Bagh protestors as anti-national, making Delhi elections a battleground between far-right Hindu nationalism and so-called 'anti-nationalism'. AAP played its development card extremely well and people of Delhi made it very clear with the mandate that they want a Politics of Hope and not Politics of Hate. However, Arvind Kejriwal, with his continued silence on the many social, political issues, has failed Delhiites as their chief minister. 
True, Kejriwal's election doctrine of ignoring BJP's Hindu-Muslim narrative worked well and earned praises from across the opposition, but his continued silence even after the elections is baffling. AAP is itself born out of a protest and Kejriwal himself has earned accolades for sit-in protests with his close associates for different issues in Delhi. Then, why has he suddenly turned away his face from the voters? Why is he hiding in the safety valve of silence instead of taking a stand, taking the blame or taking the required necessary actions?
The answer to these questions may be many but to now it appears that he is riding onto a bigger agenda and the larger goal is best known to him. The limitations, of Kejriwal or his AAP's strategy of ignoring the protests against the new citizenship matrix to prevent polarisation, were on full display as the government could do little when rioting broke out in northeast Delhi. After the violence spiralled and spread on Monday, 24 February, claiming ten lives and injuring several, Kejriwal put out several tweets appealing of calm, offering condolences to the family of the slain head constable and urging the Centre to restore law and order. 
"Nobody should be allowed to orchestrate flagrations," he tweeted. Kejriwal needs to do more than a just tweet, appeal, blame and be a helpless chief minister. As the chief minister of the city-state, he needs to take ownership, take suggestions and work across political parties to restore normalcy in troubled areas and many more. He could have done what he is best at, set up helpline numbers to report inefficiency of Delhi Police and administration as schooled by Congress leader Ajay Makhan. There is a long list of what he could have done as the chief minister of people, but his silence has sent a shock among Delhi voters who recently celebrated the victory of democracy.
Claiming himself as "Janta ka CM, Delhi ka beta" (people's chief minister and son of Delhi) during his election campaign clearly revealed his double standard when water cannon was used by police to disperse a group of students who gathered outside his house to seek an explanation of the situation. This act in itself is a revelation of the fact that AAP has tried to occupy the space of the main Hindutva fascist polity currently held by the BJP with Kejriwal and other leaders projecting themselves as devotees of Lord Hanuman, carefully side-stepping thorny uncomfortable issues like the Citizenship (Amendment) Act, 2019, (CAA), the National Register of Citizens (NRC) and Shaheen Bagh protests; and yet, anchor his discourse around development. Many saw this as a strategy for the Delhi Assembly polls but the strategy has continued even after the elections. Furthermore, it seems that Kejriwal has lost the courage to even face criticism as he recently unfollowed politically vocal actor Swara Bhaskara, Radio Mirchi RJ Sayema and few other journalists who criticised him over Delhi violence.
By not speaking up, Kejriwal continues to cosy up to the voters who believe that those protesting the CAA-NRC are 'anti-nationals' or that the students who were beaten up (mostly Muslims) or people who have lost lives in the Delhi pogrom deserve the punishment they are getting from the police and the rioters. The AAP's lack of ideological clarity is perhaps best encapsulated by its social media strategist Ankit Lal posting that the party can 'go to left or right'. AAP needs an ideological clarity and a counter vision and ownership of Delhi violence and disruption of law and order. However, so far it doesn't appear to be so. People of Delhi elected a fierce, powerful and ideology-driven chief minister and not a helpless, and spineless one.
A silent admirer of galaxy and star follower, given a choice between human or books, would prefer latter with a cup of cold tea. A Jamia Millia Islamia alumni and an expert political consultant.