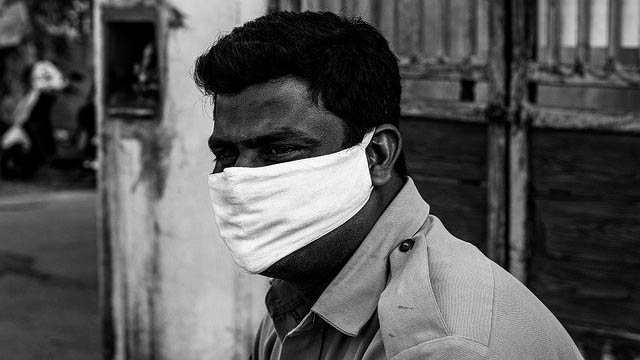 The oppressive silence of the COVID-19 pandemic
Reading Time:
4
minutes
As India overtakes Turkey in both overall COVID-19 infection and number of deaths, and also crossed Iran in total infections and Russia in death tolls, we still feel reluctant to figure out that the lockdown has been an utter failure, and how there were so many other possibilities like the virus wouldn't have even entered the country if those 20 international airports had been locked right after the virus took a devilish turn in China and Italy, or the lockdown could have been a planned one and so on. The privileged classes are still pretty safe inside their homes but those who are dying on the streets have a different story of a different system that has been exposed in this pandemic.
The system won't tell you why did they leave those workers to die on the railway tracks, stations and even in the train compartments? The food that is provided in the trains happens to be two chapatis and a green chilli per head. Nothing else. Forty trains ferrying labourers back home lost track and reached somewhere else. Nine labourers died inside the trains due to heat and starvation.
These workers aren't fools that they decided to walk thousands of kilometres barefoot with their families. Some are carrying their children on their back, others are making them walk and leave their innocence behind. Fathers carried children on their shoulders, women balanced belongings on their heads, people squatted atop crowded trucks — all determined to find a way home. More than 30 workers have died due to road accidents in this lockdown as they have no job, no food, no resources to survive this unplanned lockdown. Trains are running over them, trucks are ravaging them, and many are just losing their breath due to starvation.
The quarantine centres have no system to maintain "social distance" among the workers, rather, they are being told to stand in lines to get admitted in the centres, and they've to form a queue for a railway ticket that should have been free for them, but instead costs an unfair amount of money for those who have nothing left with them. It's only now when the last batches of migrant workers are transported that the Supreme Court took cognisance of the fare collected from the workers.
Indians did clang utensils to encourage frontline medical workers battling against the virus, but aren't their job is made tougher by not increasing the number of testing centres in different parts of India? The authorities didn't lock those international airports way before the pandemic took a bad turn to welcome Donald Trump. Later the pandemic just became a Hindu-Muslim issue and everything turned out to be against the Muslims. It is so unfortunate that  Indians still can't get out of religious bigotry and politics even when people are dying in large numbers just to make everyone see the ineffectiveness of the system.
Now that the migrants are returning to their homes, they're just going towards more chaos as millions who live in rural areas have already been facing the effect of drought and since the economy is in paralysis, there's very little hope that they'd have resources to even live peacefully in their homes. "The lockdown and return of the migrant workers are going to create a huge pool of unemployed workers in rural areas," said Jean Drèze, a Belgian-born Indian developmental economist and an expert on food security and hunger. "The landless labourers and casual workers are the most vulnerable. Their families are more vulnerable than ever", Drèze said.
India has seen a man eating the corpse of a dog due to starvation. We've also seen how the workers are dying to reasons that could be checked if the system stops its business of exploitation and racism. We've seen those who make homes and roads are crying in agony. India faced the highest number of unemployed citizens this year, and with this lockdown, during the forthcoming monsoon season, there's a higher risk of a large number of farmers losing their resources with which they feed their families.
India has overtaken China and many other countries in COVID-19 cases and is eighth in the global list with 167,442 cases as of May 29th. Since May 1st, when the "Shramik Special" trains started taking people from cities back to villages, states that are home to the most migrant workers recorded a jump in COVID-19 cases. India's rural hospitals house only a third of the country's beds — a ratio of 3.2 beds per 10,000 people — and are ill-equipped to handle an outbreak. Prime Minister Narendra Modi announced a "fiscal stimulus" package worth Rs 20 trillion, but that won't help the poor survive the painful lockdown and imminent starvation due to the economic crisis. Even though the government announced ration to all, irrespective of whether they hold a card or not, there is no word or roadmap on how such a scheme will be implemented to provide last-mile delivery.
Those elites and privileged Indians working in different countries, who have been brought to India for free under the "Vande Bharat" mission are the ones who left India to invest their efforts in some other country. They're the ones who on the very first hand brought the disease from abroad. It's not known that if these non-resident Indians (NRIs) were prevented from entering India, then whether India would've been less vulnerable than what it's now. But more priority should've been given to saving the poor of the country than those privileged NRIs who are capable of gathering resources, have a fair amount of bank balance and have the privilege to go for the best treatments this world has to offer.
But these poor "migrant workers" of our India are still being charged with train fare, and are being asked to book tickets online. Isn't it ironic that the authorities don't even know that everybody is not capable of getting an internet connection with the money they have? It is time that India understands that the worst time is about to come, and it's not a paranoid assertion. The data interpretation is making the whole world say this and it's a fact that we must understand now. Those who are privileged will be safe for some time. But the workers who shaped the country and built the assets are walking, starving and dying on the streets. It'd be more hypocritic if we still fail to understand where did we go wrong. Period.
Kabir Deb is an author, poet, editor and a content writer based in Karimganj, Assam. He works as a teacher in a government institution and has completed his Masters in Life Sciences from Assam University. His works have been published in various national and international magazines like Different Truths, Kaafiya, Counter-Currents magazine, Spillwords Magazine, India Today, Sahitya Akademi, etc. He works as an activist and is actively involved in writing for human rights. His poems talk about the people living as oppressed. He loves to write on women and is a vocal feminist. He right now also works as a content writer of Counter-Currents magazine. He was awarded the Social Journalism Award in 2017 for being vocal about human rights violation. In 2019, he was awarded the prestigious Reuel International Poetry Award for best upcoming poet.