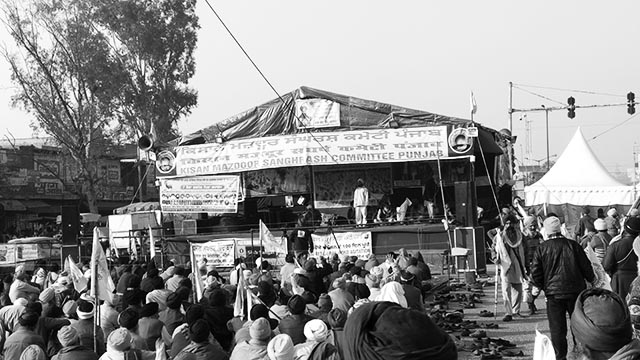 When fascism comes to visit you
Reading Time:
6
minutes
Is India, under Prime Minister Narendra Modi, still a democracy or has crossed the Rubicon and has become a full-fledged fascist state? If the developments over the last six years are any evidence, then, India has arrived. It has achieved under Modi what the Hindutva fascist Rashtriya Swayamsevak Sangh (RSS) has been always striving to achieve: a full-blown fascist state of upper-caste Hindu majority rule, with corporate control over the state.
Referring to the recent developments, the editorial of The Telegraph of February 1st 2021 makes the following observation and expresses grave concern about the state of Indian democracy under Modi:
"Is India in a state of 'undeclared emergency'? Several media organizations — the Press Club of India, Editors Guild of India, Indian Women's Press Corps, Indian Journalists Union are among them — think this is, indeed, the case. Their concerns cannot be brushed away. 'Democratic' India has developed a new brash rash of intimidating members of the fourth estate who still have the spine left to be objective and critical. Legal provisions, some of which are legacies of colonial law, are being blatantly used to impose a culture of silence." (sic)

"Eerie silence: undeclared emergency", Editorial Board, The Telegraph, February 1st 2021
This observation and concern refer to several incidents of arrests, incarceration and bullying of citizens by the Central and the State governments ruled mostly by Modi's Bharatiya Janata Party (BJP). Many journalists, especially, those who would not align their views with that of the government, are targeted and jailed under the draconian laws such as the Unlawful Activities Prevention Act (UAPA) and even the colonial-era Sedition Act.
These archaic, yet draconian, laws are applied liberally on journalists, protesters, and dissenters, leaving them incarcerated for months, mostly without trial and bail. The government is growing so paranoid about any kind of democratic dissent and criticism that it has given up on normal ways. A report by news website Article-14 says, "96% of sedition cases filed against 405 Indians for criticising politicians and governments over the last decade were registered after 2014, with 149 accused of making "critical" and/or "derogatory" remarks against Modi, 144 against Uttar Pradesh (UP) chief minister Yogi Adityanath." (sic)
A similar and more discriminatory approach is used against Muslims who joined and spearheaded protest movements against the contentious Citizenship Amendment Act (CAA) and now against the farmer leaders and other supporters of farmers' movement against the new pro-corporate farm laws. Once again, the UAPA and sedition laws are slapped on several people associated with these protests. The same approach has been adopted against every group and individuals: students from Jawaharlal Nehru University (JNU), Aligarh Muslim University (AMU), Jamia Milia Islamia (JMI), social activists, Dalits and others.
In the context of farmers' protest anyone, journalists, supporters, and even politicians, as illustrious as Shashi Tharoor, have been slapped with sedition. Other journalists who braved to report about how Hindutva rioters had attacked the peaceful farmer protest site are jailed, even without recourse to legal assistance. Journalists' bodies have been protesting before the police stations and through press conferences.
As far as the government's behaviour is concerned many concerned citizens started invoking unannounced emergency or fascist rule taking root in India. Memories of Indira Gandhi's Emergency rule from 1975-77 are recalled. Many journalists say that the current government's rule is worse than the declared emergency of Mrs Gandhi because during a declared emergency it was known what's expected of citizens. However, under the current undeclared emergency, no one is secure from what laws the government would use to silence and incarcerate them.
The entire nation, including the farmers, (except, perhaps, Modi's uncritical followers who hate anyone and everyone who can discern Modi's rhetoric and criticise them), can see and feel the constricting atmosphere this government is creating. The Telegraph's editorial notes with concern about how sedition is used as a weapon and how constitutional bodies have failed to safeguard citizens' rights:
"Data from the National Crime Records Bureau in 2019 indicated that there had been an astonishing 165 per cent rise in cases of sedition, many of which targeted journalists. The weaponization of sedition — a point that the Editors Guild has drawn attention to — as well as of other draconian legislations can have only one intent: the stifling of expression of independent, critical opinion not just by journalists but also comedians and citizens. This warrants serious reflection on the part of institutions that claim to be the custodians of democracy." (sic)

ibid
When this happens to journalists to this extent the country has passed the test for fascism. India, now, has moved from populist Modi rule to full-scale authoritarian fascism of RSS-Hindutva dream.
Signs of India's authoritarian populist losing control:
Modi came to power in 2014 employing populist propaganda. As soon as he assumed power, Modi concentrated all power under him. Other departments and ministries have been rubber-stamping what is already decided by the Prime Minister's Office (PMO). Having a brute majority in the Parliament most bills have been passed without discussion or consultation with the Opposition Parties. Even in the Rajya Sabha, where the BJP does not have a majority, bills have been bulldozed through and passed with voice vote even while the Opposition was demanding discussion or referral to expert committees.
All these show that the right-wing populist Modi has become an authoritarian leader with scant respect for democracy and parliamentary traditions. In this mauling of democracy most of the nation's constitutional bodies, including the courts, and the media have either acquiesced or supported him wholeheartedly.
Hence, having virtually no Opposition in the parliament, no constitutional bodies that can stand up against the constant mauling of the constitution, and having the one group that could question, the media, functioning as a propaganda arm of the government, Modi is bulldozing every wish and demand of citizen groups. The recent among them are the farmers who constitute most of the Indian population, and a section of which supported Modi wholeheartedly during 2014 and 2019 elections.
The bulldozing and barricading anyone and everyone who opposes Modi's authoritarian rule is happening literally at the farmer protest sites on Delhi borders. Motorways and flyovers are being dug and borders are erected around farmer protest sites using concrete, metal spikes and barbed wire. Commenting on this very disturbing and in some ways a parody of democracy a Twitterati has this to say:
This is how a ruler who has lost touch with reality is treating its one-time enablers. Is this a sign of Modi losing control over the nation? Are these signs of further repression and suspension of the constitution in the name of internal security?
Modi's fascism comes to visit one of his enablers (Jat farmers)
That Modi's arrogance of power and failure to deal with those who disagree with his narcissist approach to law-making is an object lesson for those very Jat farmers who were cajoled to participate in a communal pogrom instigated by the BJP to polarise Hindus against Muslims.
There is a striking example. The very Jat farmer leader Rakesh Tikait of Bharatiya Kisan Union (BKU), who was a part of the BJP's strategy of using pogroms to polarise Hindus, himself became "the hunted" by Modi and Yogi governments.
In 2013, Tikait and his brother Naresh had been complicit in an anti-Muslim pogrom in Muzaffarnagar of Uttar Pradesh. The pogrom in August–September 2013 had resulted in at least 62 deaths and injured 93 and rendered more than 50,000 displaced. But as soon as Tikait, as the leader of Jat farmers, began protesting Modi and the BJP, the latter have thrown him under the bus slapping UAPA and an arrest warrant.
If Modi could deal with his past enablers in such a ruthless and authoritarian fashion, one can understand how he and his Party-led governments have been dealing with dissenting Muslims, students, artists, academics, and the Opposition. The entire state machinery is employed ruthlessly and vengefully to punish and silence those who are perceived to counter the fascist narrative.
Time to fight back or crawl?
Has India passed the Rubicon of being a flailing democracy to full-blown authoritarian Hindutva fascism? Whether the majority agrees with this assessment of not, more and more segments of society feel the heat. With the new budget before us what one can conclude is that India and its people are not Modi's concern anymore. As Jayati Ghosh argues:
"There is one central message of the Narendra Modi government to the people of India from Budget 2021-22: you will have to be 'atmanirbhar' because you're on your own. The Central government does not have your back. In the midst of the worst health and economic crisis the country has faced since Independence, it will not protect you. It will not spend more to enable food security and employment security, even though its own laws promise that. It will not provide sufficient resources to state governments for them to meet their obligations on health, education and all other essential services that affect your lives. It will not ensure your rights and dignity vis-à-vis large private players whose power will grow."

"Bag of tricks", Jayati Ghosh, The Telegraph, February 1st 2021
All that Modi cares about today is how to enrich his cronies by selling off national wealth and enterprises. People should become 'atmanirbhar' and fend for themselves. If they oppose and dissent the entire weight of the state machinery will be employed to discipline. Of course, every law (UAPA, Sedition and others) necessary to do that is in place. Now the choice before the aggrieved and angry citizens is to either fight back or crawl under the Hindu Rashtra only to be mauled by the state, owned by the crony corporates.
Dr Samuel Sequeira is a Research Associate at Cardiff University, UK. A native of Karnataka, he had his MA at Mysore University (Karnataka) and had worked as an Editor of Konkani and Kannada newspapers. He has his PhD from Cardiff University where he researched on "South Asian Migrant Community living in Wales". His current research is about the topic "Trauma of Civil War: Sri Lankan Tamil Experience".