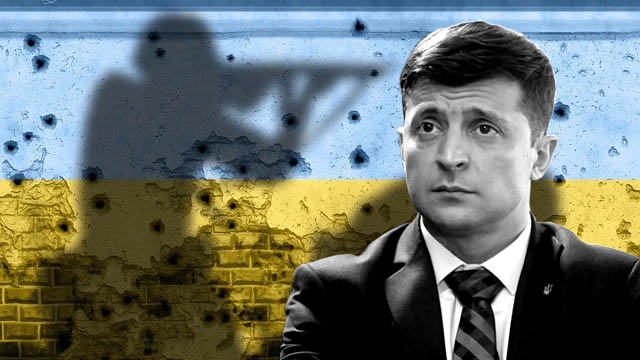 Russian military operations in Ukraine: why Zelensky's Nazi regime is evading peace talks?
Reading Time:
4
minutes
The chances of peace talks between Russia and Ukraine appear bleak now as Ukrainian President Volodymyr Zelensky has backed off from his initial offer for a truce. Zelensky had pleaded with Moscow for peace talks on Friday, February 25th 2022, within 24 hours of Russian President Vladimir Putin announcing Russian military operations in Ukraine to "demilitarise" and "de-Nazify" the rogue state, however, he did a 180-degree volte face soon after Russia agreed to hold talks.
Zelensky had pleaded for peace when he realised that the Russian military operations in Ukraine, started on Thursday, February 24th, can't be stopped by his forces, despite his jingoistic rhetoric. As the US and its imperialistic military alliance North Atlantic Treaty Organization (NATO), who were provoking Ukraine so far, dumped his government at the hour of need, Zelensky was left with no options but to prevent his imminent fall by engaging Russia in talks.
Though Putin agreed to conduct the peace talks and halted the Russian military operations in Ukraine from Friday, February 25th afternoon, signalling his intention to negotiate peace, Zelensky was suddenly pressurised by the US and NATO to reject the peace conditions laid by Moscow, including the surrender of the Ukrainian forces.
After deliberating for hours over the location of the peace talks—Russia proposed Byelorussia as a neutral location while Ukraine proposed neighbouring NATO member Poland—Zelensky backed off from the peace offer soon after the US, France and Germany promised him military hardware and other indirect assistance. Germany has reversed its earlier policy of not selling weapons to conflict zones to ensure supplies to Ukraine.
Russia accused the Ukrainian president of first proposing the peace talks and then suddenly disappearing. "The Ukrainian side said it had reconsidered the idea of holding talks in Minsk, chose Warsaw instead, and then disappeared," Kremlin spokesperson Dmitry Peskov was quoted by Russia Today. The Russians hinted at the US's pressure behind Ukraine's reluctance to peace talks.
Soon after Zelensky retreated, Putin ordered the Russian military operations in Ukraine to continue from the afternoon of Saturday, February 26th, onwards. Earlier, on Friday, Putin had called the Ukrainian regime a "gang of junkies" (drug addicts) and asked the Ukrainian military to depose the government and take power in their own hands so that Russia can easily come to an agreement with them and end the war.
"Once again, I appeal to the servicemen of the Armed Forces of Ukraine. Do not allow neo-Nazis and Bandera supporters to use your children, your wives, and elderly people as human shields. Take power into your own hands. It seems that it will be easier for us to come to an agreement than with this gang of junkies and neo-Nazis, who settled in Kiev and took the entire Ukrainian people hostage", Putin said on Friday.
Zelensky knows well that the Russian military operations in Ukraine can't be halted by his forces. He knows it's a matter of a few days that his regime and military will collapse if he doesn't agree to the justified Russian terms, including the condition of surrendering arms. However, he is still hoping that the arms and ammunition provided by the US and other NATO members will continue to help it fight the Russians. However, that's not the case.
Russia's Ministry of Defence (MoD) has claimed that the Russian forces have seized a huge cache of foreign arms and ammunition sent to Ukraine by the western forces to combat Russia. This proves that foreign weapons alone can't help Ukraine to survive this war. As Russian forces are fighting intense battles for control over capital Kyiv and the forces of Donetsk and Lugansk people's republics, aided by Russia, have advanced 25 km west on Saturday, the Ukrainian forces can't do much.
Heavy shelling was reported in the Donbass region on Friday and Saturday, as the neo-Nazis like the Azov Battalion and other Banderites (fascists) have intensified their attacks on ethnic Russian minorities. Russian MoD spokesperson Igor Konashenkov accused the Ukrainian neo-Nazis of using civilian locations as shields to launch their military operations, and luring Russia to attack civilian targets. Konashenkov called this a "template used by the CIA-funded terrorists in Middle-East Asia".
It's quite evident that Zelensky wants to continuously earn international sympathy using the international mainstream media's biased coverage of the Russian military operations in Ukraine and garner the support of the imperialist powers to prolong the conflict so that he can continue to receive funds and weapons from the west.
Zelensky is also expecting that Russia will be eventually weakened due to the economic sanctions imposed by the US, the UK and the European Union (EU) on it. He and US President Joe Biden are expecting that Russia will relax its terms after facing hard sanctions. The US and the EU are trying to tighten the noose around Russia's neck so that it can be financially strangulated and its war efforts doomed.
As the sanctions are so far not able to contain Russia, the question is how long can Ukraine continue to harp on foreign help to avert the inevitable? Before Putin ordered the Russian military operations in Ukraine to eliminate its neo-Nazis, Zelensky had made tall claims of an inevitable victory against Russia. Now, Ukraine's condition, according to Russian statement, is of a "dog with its tail between the legs".
Russian President Putin had announced that neither his government aims at occupying Ukraine nor wants to establish a puppet regime in Kyiv. Rather, he limited his goal to demilitarising and de-Nazification of the rogue state. But the western propaganda machinery is showcasing this as a war of occupation.
Ironically these very media outlets had glorified the US aggression on several countries like Afghanistan, Iraq, Libya and Syria as initiatives to export "freedom" and "democracy". They often remain mum on the Zionist Israeli aggression on Palestinian territory, US-aided Saudi Arabian war crimes in Yemen or the French violence in Africa.
The Russian military operations in Ukraine aims at eliminating the Azov Battalion and the Banderites responsible for the genocide of ethnic Russians in the newly-recognised Donetsk and Lugansk people's republics. Nearly 14,000 people, including children, have been killed by Ukrainian soldiers and neo-Nazis in the Donbass region since 2014. The west has been tight-lipped about the genocide so far and whitewashed the neo-Nazis as "nationalist" forces.
Unless the Ukrainian regime stops following the US diktats and independently decides to engage in a meaningful dialogue with Russia, peace can't thrive in the region. Ongoing violence will not merely jeopardise the lives of the people of the Donbass region, but also those living in different parts of Ukraine.
To avert a major catastrophe and to end the Russian military operations in Ukraine, Zelensky needs to take the route of dialogue instead of jingoism. However, the big question is whether Zelensky and his coterie, servile to the US and the western imperialists, can take any free step towards restoring peace in Ukraine?
Unsigned articles of People's Review are fruit of the collective wisdom of their writers and the editors; these articles provide ultimate insight into politics, economy, society and world affairs. The editorial freedom enjoyed by the unsigned articles are unmatchable. For any assistance, send an email to write2us@peoplesreview.in