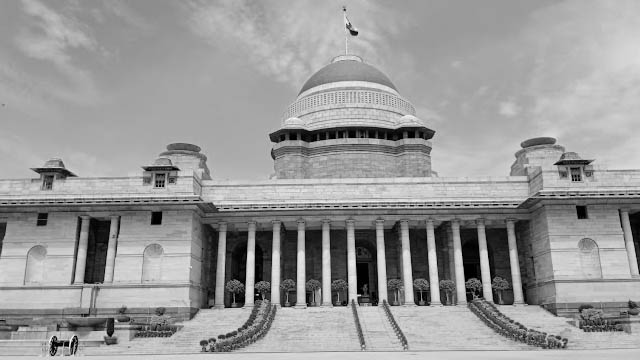 Dear President: The dignity of the Dalit and tribal women matters
Reading Time:
4
minutes
Respected President Ma'am,
I hope you are thriving in your newfound powerful rank under the tutelage of one of the forerunners of Dalit and tribal oppressors – the epitome of selfishness riding high on the imaginary chariot of selflessness or asceticism.
How does it feel to be the Supreme Commander of the Armed Forces of a country that has been at war way before its independence? The historians proclaim that India received freedom without violence. But I don't know who is accountable for the violence the two nations witnessed during their independence or partition. In fact, I don't even know why it's alleged that India has been at war against its own people, one after another, since the Republic was founded.
Ma'am, the whole nation celebrated your commemoration as the President of India. Ever since childhood, I wondered whether we would ever have a woman as the president. But now, when we witness history come alive for the second time in this century after Pratibha Patil, the country celebrates your ethnicity more than the history you created. This is great news for a country where one in 25 people suffer a form of caste-based discrimination, persecution and oppression in the place of work or residence.
According to the National Crime Record Bureau's (NCRB) data, there were 50,900 cases of crime against the scheduled castes (Dalits) and 8,802 cases of crime against scheduled tribes were registered in 2021 alone, when the country was still under partial lockdown phase, and the people were dropping dead allegedly due to the lack of oxygen in a country that has a nuclear arsenal, plans lunar missions and wants to be a world leader. Ma'am, I am sure you must be aware of the fact that at least 10 Dalit women are raped each day, and in the past ten years, their vulnerability to rape has risen by 44%.
Let us assume I am a Dalit voice. Let us assume I am a tribal voice. Let's assume I am a student at one of the prestigious universities of India. Most of the students from the "general quota", in one way or another, remind me how everything is so easy for me. Ma'am coming this far has been as difficult for me as it was for you to become the President – who else but you would know the struggles of a Dalit or a tribal woman in India!
It is seriously heartbreaking how your tribal ethnicity took over your credibility. Sigh! What can we do? We can't raise our voices or dissent against the government; it is better to be humiliated with total humility than to rebel with dignity. Neither of us would want to face the fate of our sister Surekha Bhotmange!
Anybody who Googles her name will find out about the Khairlanji Massacre. The year 2006 witnessed one of the most brutal caste-based atrocities in India. Of all the crimes Surekha Bhotmange committed, the most severe was being an educated Dalit woman – an oppressed woman who strived to change the circumstances of her family. She had bought a small plot of land in the area surrounded by the farms of upper-caste men. The upper caste men decided to teach her a lesson and show her –her place in society.
Surekha, aged 40, and her daughter Priyanka, aged 17, were stripped, brutally beaten, paraded without clothes, and severely raped several times by a mob of upper-caste Kunabi-Maratha caste men. When Surekha's sons Roshan, aged 21, and Sudhir, aged 19, refused to rape their mother and sister, they had their genitals mutilated by those men.
After being stripped of all dignity, the four members were hacked to death. I will not go into the details of the protests that followed or the verdict that is still pending. It is futile to know that the lone survivor of the massacre, Bhaiyalal Bhotmange died of a heart attack on January 20th 2017. However, I do wish to know how it felt to be a member of the party that was involved in the coverup and alleged hindering of the investigation. Does the name of the member of the legislative assembly, Madhukar Kukade, ring a bell?
Anyway, we must not go back into the past: let bygones be bygones. Did something of such adversity happen to Dalit or tribal women recently? I can't think of anything except for Hathras gang-rape in September 2020. The girl did give death a tough fight, but finally, after a month, she succumbed to her situation, or, as they say, to her injuries.
Ma'am, I am not so morose and gross all the time; there are times when I enjoy a good Bollywood flick. There are two actors whom I admire, Ranbir Kapoor and Ranveer Singh; yeah, I know they have similar-sounding names. Their name also reminds me of the upper-caste feudal militia of Bihar – Ranvir Sena. The outfit was formed to curb the aspirations of the Dalits attracted towards the Naxalites, left-wing militants, and the Communists. On several occasions, the group has been accused of human rights abuses.
On July 11th 1996, Ranvir Sena slaughtered 21 Dalits in Bathani Tola, Bihar. Then, in 1997, they again brutally massacred 61 Dalits in Laxmanpur-Bathe of Bihar. Apparently, a court found none guilty in the case. This group rapes, mutilates, and massacres Dalit women with sheer impunity, saying: "We kill children because they grow up to become Naxalites. We kill women because they will give birth to Naxalites."
In 2015, a sting operation exposed your erstwhile (!) party —Bharatiya Janata Party (BJP)— leaders like Murli Manohar Joshi and CP Thakur, accusing them of being complicit in the Dalit massacres in Bihar at the hands of Ranvir Sena. The solace is that even the non-BJP and self-styled 'secular', former prime minister Chandrashekhar was named in the expose.
Please accept my applause for your strength and dedication; I am sure it takes more than the hunger for power to share the table with the enemies of your blood brothers and sisters.
I am offering my apologies for taking so much of your precious time. If nothing can be done about the persecution, atrocities, and oppression against Dalit and tribal women, then is it possible to do something about women trafficking in India? Ma'am, more than 90% of the women trafficked into prostitution come from lower castes!
Unlike my long-lost brother, Rohith Vemula, I don't aspire to dance among the stars, play with the solar system or become a science writer. My aspirations are very petty and trivial; I just want a respectable job where I am not discriminated against because of my bloodline or ethnicity.
The road can be a little difficult for me because I can't dance with the wolves to walk up the success ladder, nor can I walk with the Comrades to snatch my rights – all I want is to live a normal life like any other normal, average, common citizen of India.
(Not) One of your kind
An Unnamed Dalit (or tribal) woman
Dreams to make this world a habitable place for the oppressed. Been silent for way too long. It's time I SPEAK and make sure my words shatter their reverie.