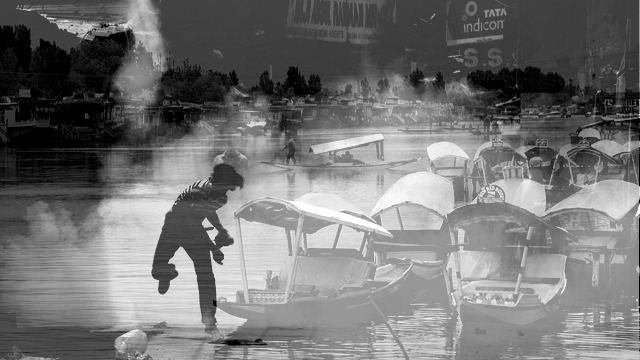 Kashmir Issue: Claims and Conspiracies
Reading Time:
5
minutes
Four centuries of Kashmir's subjugation tells the tale of long nights. The first "foreign" domination began from 1586 after Akbar extended his domain over the Kashmir valley. This was followed by the Afghans, the Sikhs, the Dogras, and now by the Indians. Kashmir's 5,000 years of history have the answer.
How touching was Jehangir's poetic utterance, "Gar Firdaus bar rue zameen ast / Hamin ast, Hamin ast, Hamin ast" (If there is a paradise on earth / This is it, this is it, this is it). "Farishte agar ayen to izzat se ayen / Yeh mera watan hai, koi jannat nahin" (Even if Angels come, they should come with my permission. This is my land, not paradise).
Afghan rule was one of the darkest periods in Kashmir's history, as summed up by this beautiful couplet by a Persian poet: "God gave its control to the Afghan / He gave Jehangir's garden to the Demons". To the Kashmiris, the Dogras were no better than their previous oppressors. Premnath Bazaz wrote: "The Dogra imperialism brought nothing but misery, thralldom, physical and mental deterioration, but the Western education under the British Empire awakened people to demand their birthright of Independence and Freedom"…
On July 4, 1819, an estimated 30,000 strong Sikh army entered Srinagar, routed Kashmiri forces and ruled for 22 years… "The change of masters proved but a change of king log for the king stork" and the Sikhs were "no less cruel, rapacious, short-sighted, intolerant and fanatical than the Afghans"…
Kashmir is of strategic importance to India, Pakistan and China. All the three have an eye on it. None of them bothers about the Kashmiri people. Problems started in 1947 when British were on their way out of India following partition. The Muslim League had demanded a separate homeland for Muslims, to be named Pakistan. After Pakistan became independent, they attacked the princely state of Jammu & Kashmir in the guise of tribal Pathans on 20 October, 1947. Until that point in time, the Maharaja of Kashmir had not decided to join the Indian Republic. The king wanted an independent Kashmir between India and Pakistan.
Kashmir problem is an international issue in which three nuclear powers: India, China and Pakistan are involved. So many attempts since the problem was created by international conspiracy have failed. So many Modis will fail like Gandhi, Nehru, Jinnah, Shastri, Ayub, Sheikh, and Indira unless the issue is solved on an international forum.
No power can claim to be its sole contenders except Kashmiris.
Politics isn't interested in Kashmir's freedom because this would affect the fortunes of aspiring leaders in both India and Pakistan. To Pakistan, Kashmir has always remained an unfulfilled dream. To India, Kashmir has always been a perpetually bleeding wound. Indian democracy can never allow the dangerous thought of Kashmiri independence. So many people have been killed in this mindless mayhem, no one knows how many will be around to light candle of freedom.
Kashmir is the most militarised zone in the world today, despite being a refuge for a comparatively small number of militants – 600,000 soldiers for 500 militants. Or, being sparsely populated – one soldier for every 10 persons. Even the US had a maximum of 150,000 soldiers in Iraq at any point in time.
Kashmiris are not allowed to have a say in their own status. They have constantly endured human rights abuses. For example, more than 100,000 Kashmiris are dead or have gone missing in two decades of Indian rule. Kashmir recently witnessed a huge non-militant protest of the killing of young kids; Indian media call it the work of ISI.
One can be literally bashed up for speaking about Kashmiris' political views. Just ask Prashant Bhushan. But oh, Kashmir is an integral part of India, a "paradise"! Also, this huge number of soldiers is not stationed at the borders, as we would like to think. A massive number are scattered all over the state. One cannot travel even 5 km without running into a group of soldiers – even in times of peace.
Then there are regular incursions by China, which indicate that the borders may not be adequately protected, given that soldiers are engaged in counter-insurgency operations. Yet cross-border infiltration continue to occur.
And what about AFSPA (Armed Forces Special Powers Acts which are Acts of the Parliament of India that grant special powers to the Indian Armed Forces in what each act terms "disturbed areas.")? It has done much more harm than good, a situation that is not expected to change.
Meanwhile, why not ask the Kashmiris what they want? The fact is they have seen much more violence and many have lost loved ones. There are reports of hidden graves that have been surfacing all across Kashmir, which may help explain the case of "missing" Kashmiris. Now imagine this happening anywhere within mainland India.
There were so many rape cases registered against Dogras when the Indian community was languishing in tents. The days are gone when their forefathers were paid to change their names from Ghulam Muhammad to Mama and Ghulam Rasool to Lassa. This cherry picking of incidents, which is not even reported by the Kashmiri newspapers, shows the sinister motive of the pandits.
No wonder RSS has got them right under their nose. What the Indian army does there is reprehensible – killing teenagers, raping women. In many ways, it is worse than the Israeli treatment of Palestinians.
Kashmiris never have, and with the way things are going, probably never will become Indians. And one cannot force them to be Indian, either. It is just as bad as Tibetans being forced to be Chinese, Bengalis and Balochs to be Pakistanis, Chechens to be Russians, or Palestinians to be Israelis.
What is the wisdom behind spending ridiculous amount of resources to force an unwilling nation to relent? Time and again, the Kashmiris have indicated that they wish to remain independent from both India and Pakistan. In return, both states have tried to forcibly integrate them, without asking their consent.
Invoking special provisions, the Centre can and has dissolved every dissenting civilian government elected to power. The AFSPA entirely nullifies the very existence of democracy in Kashmir. In spite or because of Article 370, the valley is nothing more than a colony. Now, on the Pakistani side, even the facade of electoral democracy does not exist. It is full on colonisation of a nation.
Who is this stronger opposing weaker? Our opinion doesn't matter because the governments are formed by crowds, who are with Modi now. It is time to put Kashmir aside for a moment and introspect: it is time to save animals from being slaughtered for human food; it is time for nature to be protected from unjust exploitation; it is time to save the earth from unjust population growth; it is time to save people from exploitation by crony capitalists; it is time to end dysfunctional countries, archaic monetary systems.
Can I now live in John Lennon's dream? It is not that difficult to reconcile the fact that, from Kashmir to Kanyakumari, we Indians were not Hindu or Muslim by choice (as are many others). Similarly, we were not born Indian, we were born into our environment. So why don't we accept who we are? Kashmir is a Nehruvian issue, let it die now. We have to move forward. They should be proud of being Kashmiris. Only then will they find international respectability. Not by calling themselves Indians, Pakistanis Or Chinese.
Mousumi Roy is an author, whose writings are published in Times of Oman, Khaleej Times, etc. She is based in Muscat, Oman and she is also a visiting professor of International Relations.