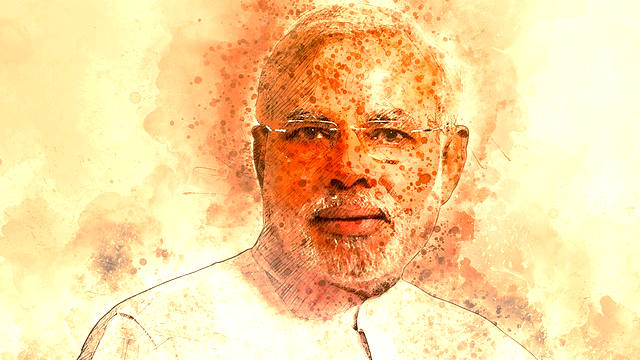 'Dilli' to Davos – Decoding Modi's India
Reading Time:
9
minutes
In the presence of Premiers of SAARC nations, corporate bigwigs, popular celebrities and several religious and political leaders from opposition parties, more than three years ago Narendra Modi took oath as the 15th Prime Minister of the country. In three decades it was for the first time that BJP came to power with an absolute majority and Modi with his 'Gujarat Model development' credential had already become the face of the party nationwide promising 'acche din' (good days). In the initial years itself, Modi with his gift of the gab and versatile operation of public relations, managed to become a Rockstar figure. People started discussing from what Modi has for breakfast to how many hours Modi sleeps. The inquisitiveness in the minds of people sprouted from strong admiration and approbation, and catering to such inquisitiveness was the coverage given by media. The distinctive attire of Modi, more often than not now named after him, the 'Modi Kurta' was observed to reflect the man's ideals and values beyond etching a strong fashion statement. Vanessa Friedman wrote for the New York Times that,"Modi Kurta itself does not exactly represent an extraordinary aesthetic advance; rather it symbolizes a set of values. And therein lies its allure."
From demonetisation to Make in India and Pradhan Mantri Jan Dhan Yojana to the surgical strikes in Pakistan Occupied Kashmir, a lot has happened in the last three years during Modi's governance and to decode the imperatives of the Modi government it is necessary to look beyond the facade of incessant propaganda narratives and election gimmicks.
Bubble of Bhakts and the promise of Acche Din
Before coming to power some of the big callouts were to bring back the black money, create more jobs, end corruption, fight against terrorism and a promise for a peaceful environment with sab ka saath sab ka vikaas (collective efforts, inclusive growth). However, many of the prime and crucial promises remain as promises even after three years.
Although it would be naïve to point fingers at Modi for every failure or predicament in the country, the crucial concern is regarding the lukewarm response from the government on sensitive issues. It took a week for the Prime Minister to respond to the Dadri lynching when he broke the silence by calling the incident "unfortunate and undesirable". Although the Prime Minister made references in general to communal violence, there wasn't a direct condemnation from his end. What came as a disappointment also was that it took nearly two years for Modi to break the silence on the attacks against Dalits after the Rohith Vemula incident, Una attacks and many other instances of communal hatred in the country. The violence in BJP-ruled states against Dalits and minorities and the kind of election campaigningof party workers in these states ahead of the elections are also worrisome for the public. When the motto'sab ka saath sab ka vikaas' echoes for yet another election(in 2019), the question that once again pops up in the minds of the common people is that would it really be possible for BJP to give up votebank politics and come out of the perpetual fear of disappointing the Sangh Parivar?
Unemployment has been another major concern for the Modi government even before coming to power (or at least has been shown as one). As a part of the series of 'Janta Maaf Nahi Karegi' (People won't forgive) general election campaign ads in 2014, the promise of employment to the youth and 'badlaav' (change)worked out well to attract the youth of the country (which always has been a major target of Modi). Although BJP promised to accord high priority to job creation, even after three years the numbers don't tell a good story. Between 2009 and 2011 the organized sector managed to produce an average 9.5 lakh new jobs every year and in the years 2015 and 2016 the employment generation plummeted to less than 2 lakh jobs a year. According to the data released by the Ministry of Labour, employment creation in 2015 reduced to 135,000 jobs compared to 930,000 in 2011. The report further says, "Yet more than half-way through his (Modi's) tenure, there are almost no jobs available. Job creation has fallen to levels even below those that the preceding UPA governments plunged to".
The concerns over the operations and implementation of schemes as approved by the Central government also came into notice when The Indian Express carried an investigative report on the Jan Dhan Yojana  and suspicious practices involving alteration of data of the opened accounts. In the report, it was observed that some of the public sector banks had accepted that their branch staff deposited small amounts like Re 1 on their own in Jan Dhan accounts to reduce the number of zero-balance accounts opened under the government's financial inclusion scheme.
Demonetisation with its multi-faceted agenda which till date remains unclear received a lot of flak for its self-inflicted wounds. Although what is clear right now is that the move came as a shock to the rural economy while the core agenda changed from fighting black money to cashless economy to less cash economy. P. Sainath, after one year of demonetisation, wrote that "with one decision, farmers, landless labourers, and daily wage workers have been rendered helpless and cashless." In his website, People's Archive of Rural India, he ran a series of reports and articles on how demonetisation impacted rural India. The stories from rural districts of Andhra Pradesh, Karnataka, Maharashtra and several other parts of the country brought out the hardships faced by the rural population because of notebandi. With these stories, Modi's claim during his speech at Davos that, "..more than 1.25 billion Indians accepted in one voice and moved towards a less cash society..", shouldn't be regarded as anything beyond a self-consoling rhetoric.
Non-alignment to Multi-alignment and Look-East to Act-East – The Modi Code
The foreign policy of Modi government, unlike the domestic policies (and the nature of politics of BJP in India) seemed to have been on a gainful track. One of the major highlights of the Modi government perhaps is his attempt to put an end to the Non-Aligned Movement (and its outlived interests) and its effect on India's foreign policy. Geopolitically, the Nehruvian directive of non-alignment very much worked till the late 20th century when the Cold War was still at its peak. Although the dynamics of International Relations never remained inert, to an extent India's approach to the world, for a long time seemed to be codified within the limits of NAM.
In the initial years of the Modi government, India's deepening ties with the United States led to stronger engagement on issues related to defence and strategic affairs. Perhaps one of the major highlights of India-US relations would be the defence partnership between both the countries. The two countries now conduct more bilateral exercises with each other than they do with any other country. India participated in the Rim of the Pacific (RIMPAC) exercise in July-August 2016 for the second time with an Indian Naval Frigate. Bilateral dialogue mechanisms in the field of defence include Defence Policy Group (DPG), Defence Joint Working Group (DJWG), Defence Procurement and Production Group (DPPG), Senior Technology Security Group (STSG), Joint Technical Group (JTG), Military Cooperation Group (MCG), and Service-to-Service Executive Steering Groups (ESGs). The agreements signed with the US include Logistics Exchange Memorandum of Association (LEMOA) signed in August 2016, Fuel Exchange Agreement signed in November 2015, Technical Agreement (TA) on information sharing on White (merchant) Shipping signed in May 2016 and the Information Exchange Annexe (IEA) on Aircraft Carrier Technologies signed in June 2016.
The relationship also saw a growth in bilateral trade and cooperation in economic sectors. As per the latest data, the India-US bilateral trade in goods and services has risen to $114 billion in 2016. There is also greater emphasis on sectors like health, Science and Technology and space. In fact, in June 2016, ISRO successfully launched a record 20 satellites onboard PSLV rocket, which included 13 satellites from the United States.
India's bilateral relations with Russia have also been reaffirmed under the Modi government, with major emphasis on cooperation in domains like defence and security, nuclear energy and space. From setting up of Kudankulam Nuclear Power Plant in Tamil Nadu to the defence deals between both the countries, the bilateral relations between India and Russia seem to be on the right trajectory with adequate momentum.
The bonhomie between Modi and Benjamin Netanyahu has been another major highlight, especially at a time when unprecedented changes have marred West Asian politics.  Modi government so far, however, has managed to draw a balance among Saudi Arabia, Iran, the UAE, Qatar, and Israel. Considering the fact that a large proportion of the Indian diaspora resides in the Gulf countries, India's interests in these nations are longstanding and vital. Although the country's approach towards the Gulf monarchies has been the same, the major change came with India's attempts to strengthen India-Israel relations. From areas related to agricultural technology to defence and strategic cooperation, India-Israel relations under Modi have gained more momentum than ever before.  The cooperation in the technology sector is another key area, especially after the Cabinet, approved the MoU between India and Israel on the "India-Israel Industrial R&D and Technological Innovation Fund", which was concluded in July 2017 when Prime Minister Narendra Modi visited Israel.
However, India's close ties with Israel have disappointed many within the country with protests taking off near India Gate in Delhi against Netanyahu's visit to India; the reason being Palestine. India has always vouched for its support for the Palestinian cause and still remains to do so with the recent vote in the UNGA against the US move to recognise Jerusalem as Israel's capital. Nevertheless, a major concern here is that this could appear as a counter-narrative to the storyline of 'Israel has always been India's best friend', with reference to Israel's support to India at a crucial time in 1971. The fact is that the security architecture of South Asia has changed and India is not in a position to overlook the threats emanating from its neighbours. In the present security architecture, it would be interesting to watch Israel's support to India, considering the fact that according to Netanyahu Israel-China relationship is a "marriage made in heaven" and Israel-India relationship is also a "marriage made in heaven". It seems like Modi and Bibi both try to balance relations with each other's adversaries with their own diplomatic charisma.
The shift from Look East to Act East policy in 2014, put in motion by the Modi government, perhaps was a call of the changing dynamics of world order. The recent Republic Day celebrations showed a new shift in Indian diplomacy when Modi hosted on 26 January 2018, all 10 ASEAN leaders as chief guests at India's 69th Republic Day Parade. Apart from trade and commerce, India is aiming to deepen its security engagement in the Indo-Pacific region with the ASEAN at its epicentre. China with its 12 trillion-dollar economy still remains the biggest trading partner of the ASEAN; however, ASEAN leaders will rightly discern that any action to contain Chinese strategies can only be accentuated with the support of India.  The transformation from Look East to the Act East policy of India has widened its underlying strategic interests by accepting the global power shift from Atlantic to the Pacific.
Another highlight of Modi government's foreign policy is the neighbourhood first agenda with his very first bilateral visit to Bhutan after the SAARC leaders being invited for his oath-taking as the Prime Minister in 2014. The second visit after Bhutan to Nepal again affirmed his priority to maintain cordial relations with the neighbours. The Modi government also focused on the importance of maritime security in the Indian Ocean Region through his visits to Seychelles, Mauritius and Sri Lanka in 2015. However, in the case of Sri Lanka, India lost the Hambantota port to the Chinese influence when the Sri Lankan government succumbed to the debt trap and was forced to hand over the southern sea-port to China on a 99-year lease. (Chinese investments in other parts especially Africa, Central Asia and India's neighbourhood states like Pakistan, Myanmar, and Bangladesh also pose difficult impediments to New Delhi).Although the neighbourhood first agenda has been a primary concern for the Modi government, relations with Pakistan have been at a low, and never improved in the last three years especially after the Uri attacks; and indirectly it also remains a key issue in the security dynamics of Jammu and Kashmir and the domestic politics of the state.
 India during Modi and the Davos episode
Anyone who has been following Modi thoroughly wouldn't be surprised by the speech he gave at Davos. Modi being the first Indian Prime Minister to attend the World Economic Forum nearly after two decades won the spotlight and media space for prime time debates in India. He touched upon several subjects including counter-terrorism, global peace, and climate change. One of the apt observations of Modi's speech was made by Shekhar Gupta, who writes, "From 2006 to 2011 to 2018, India's pitch continues to be what it sees as its soft power: food (plenty of it, including from Naidu's Andhra Pradesh), Bollywood, crafts, spirituality and now yoga. But there are limits to how far such soft power can take a nation of strategic dimensions and ambition. Pure soft power works for a country like tiny Thailand: it counted 36 million tourists last year compared to India's 10.2 million, and has become a global hub for medical tourism, from bypasses, transplants to cosmetic surgeries and de-addiction. India has, meanwhile, got caught in its own contradictions and self-inflicted social discords."
De-constructing the speech given by Modi at Davos and reading it in conjunction with the recent developments within India, the paradoxes become more apparent and embarrassing with his own party going against everything Modi puts forth as a picture of India in front of the International community. When Modi with his charismatic oratory skills, pauses during his speech it is only to be completed by the loud applause from the audience. However, every applause is not a condonation or affirmation of acceptance, and Modi very well understands it.
Modi during his address (in Hindi) at World Economic Forum said,  "We want to see a co-operative, harmonious, sharing and caring world. In fact, this is where the hope lies.Fracture or Violence; fear or force is far away from our ethos. We do not venture or advocate violence even through words or mind leave alone the deliberate action." When he emphasized the ethos he believes in, Raghvendra Vikram Singh, a senior Uttar Pradesh bureaucrat was forced to take down a Facebook post he had written in pointing out a worrying trend he observed in the BJP-ruled state of Uttar Pradesh (UP). While referring to Kasganj riots that took place in UP, Singh pointed out the actions of radicalized Hindu youth, "Muslim mohallo me jabardastijulus le jaoaur Pakistan murdabadkenarelagao. Kyon bhai, ve Pakistani hainkya? [Take a procession by force into a Muslim neighbourhood and shout anti-Pakistan slogans. Why, are they Pakistani?]".
A report by Scroll, remarks that the explicit radicalism to seek Muslim submission have become viral in the form of videos and messages on WhatsApp, Facebook and other new media social networking forums. A video being circulated in Kasganj says, "Topi wala bhi saar jhukake jai shree Ram bolega [Topiwallahs (or Muslims) will also say jai shree Ram],". Samar Halarnkar in his piece for Scroll points out that," During every new battle against Hindu radicalism, ground is ceded, a concession is made, retreat is sounded. The appeasement of Hindus is India's new political creed."
Although the Yogi Adityanath government has promised to take strict action against anyone inciting violence, it is to be noted that this is not the first time something worrisome has taken place in UP. Perhaps it wouldn't be right for anyone to point fingers directly at Modi every time, but it very much becomes dubious as to why Modi hasn't taken adequate steps to contain such actions after repeated instances especially in BJP-ruled states and why his own party members add to such plights. The reality is that everything Modi portrays as his vision for India, is consciously scrapped, rejected and hindered by the actions of people from his own party in his own country, and without rectifying the nature of grassroot operations of BJP, every word Modi speaks pridefully about India would be seen as nothing but archetypal paradoxes.
Nadeem Ahmed Moonakal is a Postgraduate student at the Department of Geopolitics and International Relations, Manipal University.