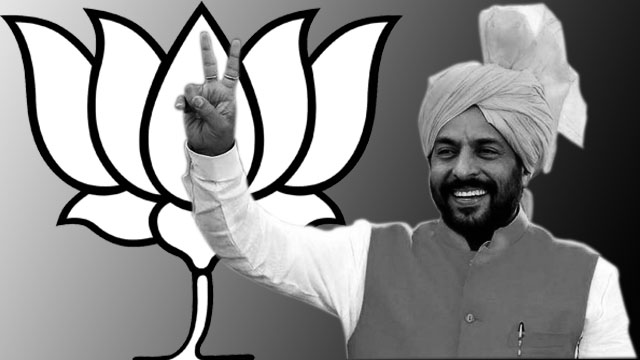 Gopal Kanda is the new lotus to bloom in the BJP's mire
Reading Time:
3
minutes
There is a visible glee in the Bharatiya Janata Party (BJP) as Manohar Lal Khattar is returning to power in Haryana, albeit with an unusual coalition. The BJP has won 40 out of 90 seats in the Haryana assembly elections and the party needs 46 members of the legislative assembly (MLA) to form a majority government. It's roping in Jananayak Janata Party's 10 MLAs and Haryana Lokhit Party's sole MLA Gopal Kanda.
Kanda is accused of raping Geetika Sharma, a former air hostess who worked in a firm floated by him, and also of abetting her suicide in 2013. He was elected as an Independent MLA in 2009 and supported the Congress party's government under Bhupinder Singh Hooda. However, he was dropped from the government after Sharma's allegation and her suicide triggered a massive movement in Haryana against him. Ironically, the BJP spearheaded a lot of these movements against Kanda to gain traction in Haryana.
Now that the BJP has a stronger foothold in the state, it's not shy to show its true colour. It's the party that, under the leadership of its parental body Rashtriya Swayamsevak Sangh (RSS), organised the most macabre atrocities against the minority Muslim and Christian communities throughout the country, in which sexual violence against women by its feral mob played an important role. The allegations against Kanda will look dwarf before the credentials of the RSS and its progeny like the BJP. 
Realising the fact that the RSS and the BJP have bigger criminal portfolios than him, Kanda clarified that he has strong faith in the RSS's ideology and his family is connected with the Hindutva fascist organisation since 1921, and his father was its member for a long time. The unity of those who perpetrate crimes against women became a strong bond without much ado.
It's not a problem for the BJP to stitch an alliance with someone like Kanda. It can have a hundred more alliances with a hundred more Kandas. There is no point in magnifying it when the BJP has repeatedly shown its preference for such characters in the past as well. What should be under the lens is the fact that someone like Kanda has not only managed to stay away from the jail since the last six to seven years, he has also managed to win victory in an assembly election after being accused of such ghastly crimes. People have actually voted for him if the election results aren't rigged!
It's noteworthy that Kanda didn't fight the election on a BJP ticket, rather he fought against it and won. This invalidates the point of using the BJP's massive funding and resources for winning. Sirsa, his constituency, elected him with 44,915 votes. He was tailed by Gokul Setia, a BJP-rebel-turned-independent candidate, who got 44,203 votes. The official BJP candidate Pardeep Ratusaria gained only 30,055 votes, while the Congress party's Hoshiari Lal won 10,059 votes. There were a plethora of candidates in the constituency, still, Kanda won. That's the tragedy!
It's true that Kanda wouldn't have won if the BJP's votes were not split between Setia and Ratusaria, still, the factor that 31.65% of Sirsa's voters think that he is worthy to represent them, despite his tainted character and questionable credentials, should worry the conscience of the nation. Why would 44,915 voters elect him and not the BJP, Congress or the BJP rebel? Why the allegations against him didn't stop these people from reposing their faith in him? Why Sharma's suicide didn't matter to these people?
These questions have their answers embedded in the socio-economic and political system of Haryana and India. Contrary to the popular narratives, until a few decades ago, women were relatively free in modern-day Haryana's Jat and Gujjar-dominated areas, where the rural communities remained free from Brahminical rituals and rules due to the latter's discrimination against them. However, with the advent of neoliberal economic policies, and the RSS-led Hindutva fascist camp's evangelism of Brahminical patriarchy, not only communities like Jats, Gujjars and others become extremely bigoted, their reactionary patriarchy reached new heights.
Women not only got extremely subjugated, sexual violence as a means to achieve the end of winning their obeisance got mainstreamed in Haryana. With a skewed sex ratio, absence of any women's right and domination of Khap Panchayats or Brahminical casteist Kangaroo courts, women aren't just literally commodified as baby-producing machines but are also subjected to the worst form of gender violence. 
The likes of Kanda feed upon such mentality, which considers it a mundane affair if a woman is raped. The blame is laid on the woman, her "audacity" and, of course, whataboutery is used to justify such acts. For a considerable section now, a rape accused isn't a big criminal but one who is a Muslim is a threat. This mindset, this despicable feudal patriarchy under the aegis of Brahminical, Hindutva fascism, can be blamed for Kanda's victory.
No wonder, in the fold of the BJP comes a man, who, after Unnao MLA Kuldeep Sengar and Swami Chinmayanand, can become a brand ambassador of Prime Minister Narendra Modi's "Beti Bachao, Beti Padhao" (save the girl child and educate her) campaign. This Diwali, while Modi talks about women empowerment, Sengar, Chinmayanand and Kanda will graciously smile and lampoon his rhetoric. That's the real picture of today's Haryana. It's normal that the BJP's lotus will bloom in such a murky mire.
An avid reader and a merciless political analyst. When not writing then either reading something, debating something or sipping espresso with a dash of cream. Street photographer. Tweets as @la_muckraker