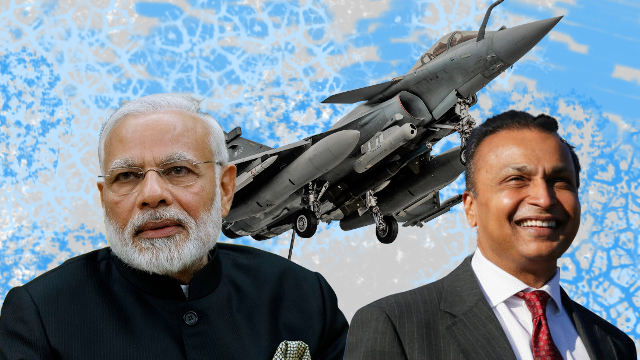 French investigation into 'Rafale Papers' becoming Modi's Bofors moment
Reading Time:
3
minutes
The Rafale Jet scam is back in news again, much to the discomfort of Prime Minister Narendra Modi, who believed that it was buried deep enough in 2018 and won't be popping up anymore to cause him inconvenience. However, Mr Modi and his government's officials are frantically searching for damage-control PR exercise and support after a French news portal, Mediapart, reported that a French judge has been appointed to investigate the 'Rafale Papers'– suspected "corruption" and "favouritism" over the controversial sale of 36 medium multi-role combat aircrafts (MMRCA), worth €7.8bn, to India.
Though Mr Modi and his Bharatiya Janata Party (BJP) managed to get a clean chit from the Supreme Court in 2018 and gagged the Opposition by causing it judicial ignominy, it's less likely that they will get a smooth sail in a French investigation at present. Mediapart published its investigation into the 'Rafale Papers' in April 2021, which led to the new developments.
The French anti-corruption NGO Sherpa filed a complaint based on these investigations and the French public prosecution service (PNF) has opened an investigation into the deal after that. This will be a major setback to former French president François Hollande and Emmanuel Macron, who had supported Mr Modi earlier. The PNF had denied an investigation in 2019 under the pretext of preserving French interests.
It's alleged that Anil Ambani, the principal benefactor of the revised Rafale Jet purchase deal, had used his influence on Mr Hollande and Macron to become a partner in the deal between India and France. Despite having no prior experience in defence production or aviation, Mr Ambani, the younger brother of India's richest man and Modi's principal sponsor Mukesh Ambani, got the contract to become the offshore partner of Dassault Aviation, removing the state-owned Hindustan Aeronautics Ltd (HAL) from the deal.
While within years of bagging a big deal of partnering with Dassault Aviation, the youngest scion of the Ambani clan faced personal bankruptcy proceedings, which was later stalled by a court in India. In 2018, when the former chief justice of India Ranjan Gogoi—who was given a berth in the upper house of the Indian Parliament by Modi's BJP—quashed the litigations to investigate the allegations of corruption in the wake of the 'Rafale Papers', the total debts of the younger Ambani brother's group of Reliance companies stood at Rs 1.72 trillion. This shows how financially sound Mr Ambani was at that time to invest afresh in a new business vertical using money borrowed from the banks.  
In 2019, Reliance Communications, which had played a pivotal role in India's CDMA mobility market, went to bankruptcy court with a total debt of Rs 460bn. Reliance Naval and Engineering, the defence company, also came under heavy debts. Mr Ambani was marketed in France by Mr Modi himself as he took him along on a state tour. Five years later, the man Mr Modi vouched for on foreign shores, pleaded at a UK court that he worths "nothing" and can't pay $700m of defaulted loans to three Chinese banks. In September 2020, Mr Ambani even told the UK court that he has only one car and even sold jewellery to pay legal fees.
Mediapart's 'Rafale Papers' investigation has shown that Sushen Gupta, arrested by the Enforcement Directorate (ED) for money laundering in March 2019, was also involved in the 2016 inter-government Rafale Jet deal in 2016, which officially changed the erstwhile agreement made during the Indian National Congress (INC)-led United Progressive Alliance's (UPA) reign. It's alleged that Gupta had access to the Ministry of Defence's secret documents, which helped him forge a nexus with Dassault Aviation and its industrial partner Thales and earn millions of Euros from these two as inflated "software consultancy" charges in shell company accounts.
India's Cobrapost investigated Gupta's involvement and alleged that he had received kickbacks for fixing the new Rafale Jet deal, a reason why he was released soon after his arrest and the ED didn't file any chargesheet related to his involvement in the Rafale Jet scam. Gupta denied the allegations in April 2021.
The Mediapart's investigation and the PNF's appointment of a judge to investigate the Rafale Jet scam, at a moment when Macron faces a strong political challenge due to rising public discontent, will become Achilles heels for the Modi regime at international platforms as well as in domestic politics. Anil Ambani, who was rescued from an imminent jail term by the elder Ambani a few years ago, can't spend much money to thwart the French investigation into the scam. If the Modi regime wants to influence the investigation, while Macron's hegemony is waning, there can be a backfire, which will have severe political repercussions as Mr Modi's BJP is going to fight desperately in 2022 to retain its control over India's largest province – Uttar Pradesh.
Whether the 'Rafale Papers' investigation by the PNF will reach a logical conclusion or can Modi have Macron pull the strings to save him and the BJP, along with the nearly-bankrupt Ambani, it's evident that the Rafale Jet scam is a skeleton in the closet, which finds out one or another gap to exhibit its presence. With the Rafale Jet scam becoming an Albatross around Modi's neck, turning out to be his "Bofors scandal", it will have long-term political repercussions for the BJP in the Indian political arena.
Unsigned articles of People's Review are fruit of the collective wisdom of their writers and the editors; these articles provide ultimate insight into politics, economy, society and world affairs. The editorial freedom enjoyed by the unsigned articles are unmatchable. For any assistance, send an email to write2us@peoplesreview.in