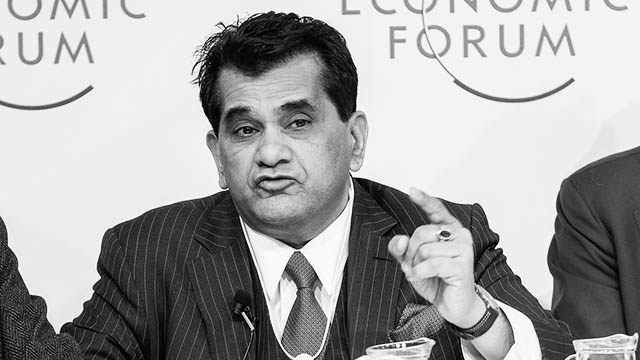 Amitabh Kant's "too much democracy" ranting shows the way
Reading Time:
3
minutes
This week we can start thanking our stars that we have "too much democracy", which the NITI Aayog CEO Amitabh Kant blamed as the sole reason hindering "development". We must not wonder whose "development" is "too much democracy" hindering, as the impasse over the blockade of New Delhi by farmers, who are opposing Prime Minister Narendra Modi's pro-corporate farm reforms, is showing whose "development" is in the list of priorities of the government. Kant is right; there is "too much democracy indeed".
Sharjeel Imam, a scholar and an activist vocal about Muslim rights, was arrested in 2019 by the Delhi Police on charges of sedition and was slapped with the draconian Unlawful Activities (Prevention) Act (UAPA) because he condemned Modi's contentious Citizenship (Amendment) Act, 2019 (CAA 2019), and called for a "Chakka Jam" or road blockade. A state that suffers from "too much democracy" syndrome can't remain calm when someone, with a Muslim name, talks about "Chakka Jam".
Students of Jamia Millia Islamia University were brutally tortured on December 13th and December 15th 2019, when they protested against the CAA 2019—albeit from a wrong understanding but with honest intention—and opposed Modi regime that has unleashed "too much democracy" in the country. Similarly, hundreds of protesters, mostly Muslims, faced police atrocities and even children were sexually assaulted by the police during the anti-CAA 2019 protests, because "too much democracy" prevails in the country.
Activists and scholars like Meeran Haider, Safoora Zargar, Umar Khalid and others are slapped with the UAPA and are jailed by the Modi regime because "too much democracy" needs gagging of those who dare to dissent. Octogenarian revolutionary poet Varavara Rao is jailed, and his catheter isn't changed in three months because "too much democracy" may affect him. So, Father Stan Swamy, another octogenarian can't get a sipper and a straw in the jail, because he is accused of being an enemy of "too much democracy".  
People's rights activists like Sudha Bhardwaj, Gautam Navlakha, Rona Wilson, Arun Ferreira, and others languish behind bars because, ironically, they oppose both "too much democracy" and "development", putting Mr Kant's wisdom to question. Prof Dr GN Saibaba, who is 95% physically-challenged, languish behind bars because the judiciary has found his ideas too much of a threat to the survival of "too much democracy". So, no bail for him.
Millions of tribal people of central and eastern India, fighting against their forceful eviction from their water, forests and land, as big corporate mining giants drool for the minerals beneath their feet, are roadblocks to "development" because despite enjoying "too much democracy" they have been opposing the government's plan to evict them for the corporates. The movements against eviction and rampant mining are sponsored by "foreign agents" because Indians enjoy "too much democracy" and too much democracy doesn't endorse protests and dissents. All one need to do is hail Modi and his cabals.
The unapologetic existence of "too much democracy" has ensured that those who killed Sikhs in 1984 pogrom, those who massacred Muslims in 1992 Bombay riots and 2002 Gujarat pogrom, those who executed the Kandhamal pogrom against Christians, those who executed the Muzaffarnagar anti-Muslim pogrom, those who executed Delhi pogrom 2020, remain unscathed. They are rewarded with ministerial berths. Also, at the same time, the activists fighting for peace, harmony, and unity, are hounded and slapped with UAPA.
The existence of "too much democracy" is visible when India skids to 142nd position in the World Press Freedom Index among 180 days. It's visible when a Muslim journalist is slapped with draconian laws when he was covering the brutal gangrape and murder of a Dalit teenager in Uttar Pradesh's Hathras. It's visible when the apex court grants bail to Arnab Goswami, Modi's alter ego balance, by conducting priority hearings, but at the same time the court refuses to hear the case of Kerala-based Muslim journalist's plight, the man incarcerated because he enjoys "too much democracy".
Anything Mr Kant says, especially to the audience of the Federation of Indian Chamber of Commerce and Industry, is Gospel's truth. One must agree to it and should give him credit for inventing "too much democracy", the hurdle to "development". Therefore, now Mr Kant and his masters are keen to officially inaugurate the Hindu Rashtra (Hindu state) so that by obliterating the essence of "too much democracy" the Indian state can simply chase the elusive "development". We are sure, in the days to come, Mr Kant will invent more stunning facts and gems to titillate the masses with Islamophobia.
Editorial desk of People's Review provides you the editorial view point and also shares the outlook of the collective wisdom that manages the publication. Send letters to the editor at: Write2us@peoplesreview.in