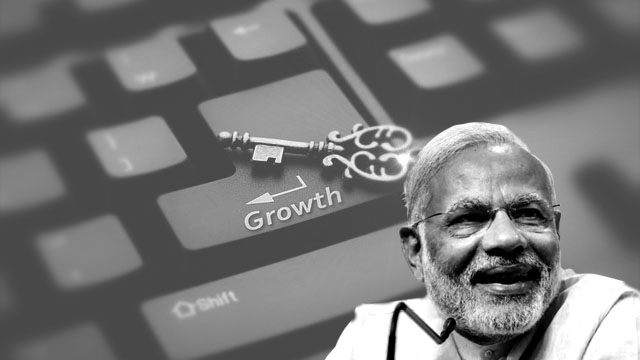 Modi's Union Budget 2020-21 to help only big capitalists amidst an economic crisis
Reading Time:
3
minutes
As the Union Budget 2020-21 draws closer, Prime Minister Narendra Modi is carrying out a PR exercise with the help of his media managers to show that he's busy in focusing on the worsening economic condition of the country and fixing five-year-plans of different ministries. So far, reports suggest that Modi didn't like the five-year-plans presented by the secretaries of different ministries and that he also met the big corporate donors of his Bharatiya Janata Party (BJP) to understand what his government can allocate for them in the Union Budget 2020-21. 
Suffering due to an unprecedented fall in consumer demand, caused by 45-year-high unemployment, lack of public expenditure in generating employment and unapologetic corporate appeasement, India's GDP growth rate fell to a historic low of 5% in the first quarter (Q1) of the financial year (FY) 2019-20. The Q2 GDP plummeted to 4.5% and though there is a scope of a slight rise in the Q3 GDP growth rate due to rise in demand during the festivities in October, there is no way it can reach 6.6%, which was the growth rate of Q3 of FY 2018-19. 
The World Bank has predicted the Indian economy to perform worst in the FY 2019-20 and the GDP growth to remain at 5% on an annual basis. It also predicted that the GDP growth will reach 5.8% in FY 2020-21. The World Bank's assessment actually predicts a very gloomy scenario for FY 2020-21, as unless there are new job-creation initiatives taken through public expenditures, there can't be any scope of revival for the crisis-ridden economy. 
While India's GDP growth is nosediving, the crony-comprador capitalist donors of Modi and the BJP have something to cheer about. A NewsClick article shows that the net worth of Reliance Industries' Mukesh Ambani grew by 118% between 2014 and 2019, reaching $51.4 billion from $23.6 billion. Gautam Adani of the Adani Enterprises — a close associate of Modi — achieved a 121% increase in his net worth, from $7.1 billion in 2014 it reached $15.7 billion in 2019. There are others like Uday Kotak of Kotak Mahindra Bank, whose net worth grew by 143% and reached $14.8 billion from $6.1 billion in 2014. Radhakishan Damani of DMarket enjoyed a 1,330% increase in his net worth from $1 billion in 2014 to $14.3 billion in 2019.
In the face of a steep decline in consumer demand in crucial industries like automobile, construction, manufacturing, fast-moving consumer goods, etc, the government neither took any realistic stock of the situation to create employment opportunities through public sector units (PSU) nor did it revise the existing direct and indirect tax rates to allow some more consumer spending opportunities. Rather, Finance Minister Nirmala Sitharaman, under unjustifiable economic logic, provided huge corporate tax sops to enrich the rich, costing Rs 1.43 trillion loss to the public exchequer. The entire focus of the government remained confined in improving the supply-side of the economy, while the real crisis has been in the demand side.
This utmost nonchalant attitude of the Modi regime towards the economy is worsening the situation every day. More industries are shutting down, people are losing jobs and total private consumption is falling fast. The Modi regime has been ignoring the warnings of economists and has focused on providing leverage to corporate houses by cutting vital welfare spendings.
It has been a practice of the Union government to meet the industries before a budget, however, Modi's proactive participation in a meeting with the top crony-comprador capitalists, much before meeting economists on 9 January, and Sitharaman's conspicuous absence pointed out that this wasn't merely a meeting to know industry views before the Union Budget 2020-21, rather a meeting to plan out further packages for them. The meeting chaired by Modi detailed the government's commitment towards privatisation of key PSUs and that the Union Budget 2020-21 will ensure far more enrichment of the chosen crony-comprador capitalists. This meeting of Modi was an outline of a greater conspiracy unfolding in India, which aims at selling the last relics of a welfare state and turn India into the official paradise for corporate loot and plunder under the BJP. 
An avid reader and a merciless political analyst. When not writing then either reading something, debating something or sipping espresso with a dash of cream. Street photographer. Tweets as @la_muckraker