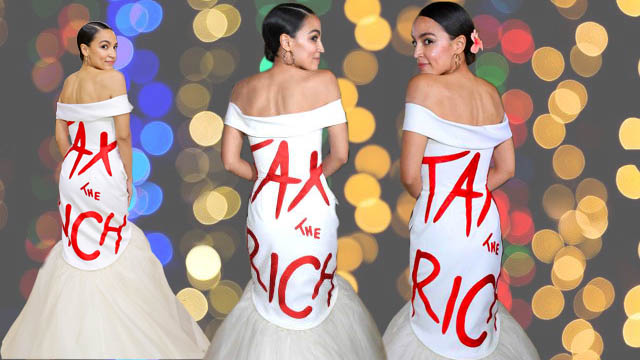 AOC's "tax the rich" campaign at Met Gala is ridiculous like the Democrats' tax push
Reading Time:
3
minutes
Met Gala is a typical American event to exhibit wealth under the garb of fashion. Each ticket to the event held at New York Metropolitan Museum of Art cost $35,000 and tables would cost $300,000. Ironically, New York's Democrat Congresswoman Alexandria Ocasio-Cortez—who is popularly known by the abbreviation of her name AOC—tried using this event for her rabble-rousing by wearing a white gown with the slogan "tax the rich" written on it. AOC's "tax the rich" campaign at Met Gala didn't impress the participants but became a viral topic on the internet.
US President's Joe Biden's administration is marketing a purported "tax the rich" programme, which it claims will fund its ambitious plans regarding healthcare, public education, paid leaves for all, climate change, etc. The non-partisan Joint Committee on Taxation estimated that the Biden regime's proposal will increase tax revenues by $2.1 trillion. However, the ambitious programme, like AOC's "tax the rich" campaign at Met Gala, is hollow and won't affect the super-rich.
The tax plan targets the income of individuals and companies, which will impact the middle-class severely and the rich to some extent but will leave the super-rich unharmed as it won't take into consideration their net wealth. Nearly 400 families in the US earned $1.4 trillion amid the pandemic while millions lost their jobs or got pay cuts. The wealth inequality in the US has reached its peak, thanks to former president Donald Trump's unapologetic tax cuts to appease the rich.
At present, if the new tax proposal is passed as legislation by the Congress and is signed by Biden, then the taxable income over $450,000 — or $400,000 for unmarried individuals — per year would be taxed at 39.6%, the top rate prevalent before Trump's 2017 tax cut brought it to 37%. The topmost tax rate for capital gains would rise to 25% from the current 20%, which will still be considerably less than a White House proposal to tax investment gains as income at 39.6%.
Corporate taxes, slashed by Trump, will be up from present 21% to 26.5% for those firms whose annual turnover is above $5m. For firms with a turnover of less than $400,000, the tax rate will go down to 18%. However, 85% of the corporate taxes in the US are paid by firms with more than $10m annual income, so the reduction won't help small and medium firms at all.
The Democrat plan also recommends a 3% surcharge to be applied on incomes over $5m. The value of estates, which are shielded from taxation and was doubled to $24m for married couples during Trump's 2017 tax cuts, would return to $12m million at the end of this year.
Even with these plans, the Democrats won't be taxing the real super-rich. The super-rich families don't earn their income through paycheques but through return on their investments in stocks, bonds, real estate and other assets. Their annual income from their employment or business is far less than their income from investments.
As of September 14th 2021, after a drop of $613m in his net worth, Amazon founder Jeff Bezos owns wealth worth $200.3bn and is the richest man on earth. Tesla CEO Elon Musk's total wealth is $192.6bn and he is ranked second in the Forbes list of billionaires. Losing $6.5bn, Bernard Arnault and family ranks third with net wealth worth $182.4bn.
However, at the same time, Bezos earned $81,840 in 2020 through his paycheque. Musk's salary in 2018 was $56,380, which was cut to $23,760 in 2019 and to zero in 2020.
Paypal founder Peter Thiel turned the Roth Individual Retirement Accounts, primarily designed for the working-class Americans to save for their rainy days, into a $5bn tax-free piggy bank. Similarly, other big capitalists in the US exploited tax loopholes and garnered more wealth over the years.
Under Biden's new "tax the rich" regime, these capitalists won't be affected at all, as their annual incomes remain far below $450,000. However, if the tax was targeted at their wealth, using a threshold, then the US Federal Reserve could have seen an inflow of immense revenue. It would have easily funded Biden's ambitious projects and saved AOC $30,000 Met Gala ticket.
However, as the United States exists to support its capitalists profiteer to the farthest extent, by colonising and subjugating other nations around the world, the "tax the rich" programme will remain a hoax hot rhetoric that will be periodically used to titillate the American 'left', who are far-right in Asian-African-Latin American standards. Therefore, rather than bleeding the rich, the Americans will show the world how working-class representative AOC's "tax the rich" campaign at Met Gala helped to advance Biden's 'socialist' agenda.
Unsigned articles of People's Review are fruit of the collective wisdom of their writers and the editors; these articles provide ultimate insight into politics, economy, society and world affairs. The editorial freedom enjoyed by the unsigned articles are unmatchable. For any assistance, send an email to write2us@peoplesreview.in