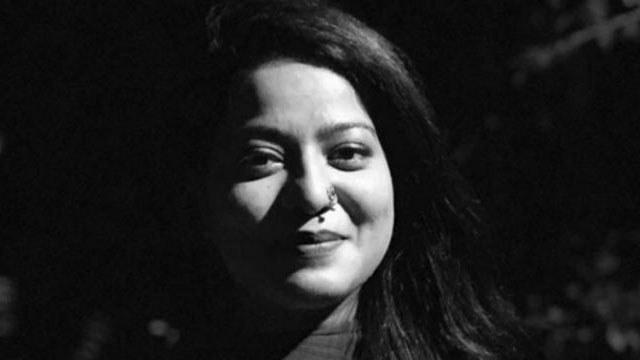 Indifference, when a pregnant woman is jailed under false charges, is a crime, dissent isn't
Reading Time:
4
minutes
Roster judge Dharmendra Rana denied Safoora Zargar's bail application on June 4th 2020 as he couldn't find merit in the plea. Zargar, a Kashmiri research scholar of Jamia Millia Islamia University, affiliated with centre-right politics, was arrested by the Delhi Police and booked under the draconian Unlawful Activities (Prevention) Act (UAPA), for protesting against the new contentious citizenship matrix introduced by Prime Minister Narendra Modi's government. Police accused Zargar of instigating violence during the anti-Muslim pogrom that took place in Delhi from February 24th to February 27th 2020. More than 300 people, mostly Muslims, have been either charged or arrested by the Delhi Police for instigating the Delhi anti-Muslim pogrom 2020.
Many other prominent Muslim and student activists, including Meeran Haider of centre-right Rashtriya Janata Dal, Gulfisha, Khalid Saifi, Ishrat Jahan, etc, have been arrested by the Delhi Police and are charged for inciting violence in the Delhi anti-Muslim pogrom. It's quite amusing that the Delhi Police didn't arrest a single Hindutva fascist perpetrator. It seems like the Muslims incited a violent pogrom against their community and killed themselves. The workers of Modi's Bharatiya Janata Party (BJP) and its parental body Rashtriya Swayamsevak Sangh (RSS), including the mastermind of the pogrom, Kapil Mishra, remain scot-free.
None of the BJP leaders who incited violence like Mishra, whose hate speech was even cited by Facebook CEO Mark Zuckerberg, faced any music. The message is clear, the Modi regime will crack the whip to punish the Muslim community to polarise the Hindu vote bank. Earlier, investigating agencies created a false narrative to implicate innocent students. We all know that dissent can't be stifled resorting to state's coercive machinery. Zargar's bail petition stated that the Indian constitution's third chapter looks at dissent as a fundamental right.
The prosecution is alleging that Zargar delivered an inflammatory speech on February 23rd in Chand Bagh, which led to violence and communal pogrom in the North East district of Delhi.
The material available on record shows no act of whatsoever nature is attributable to the applicant/accused according to the defence lawyers. How can Zargar be liable of any penal action when there was no link at all in the alleged violence and her conduct? How can a physical presence be sufficient to invoke the stringent provisions of UAPA?
Zargar had been mischievously arrested by the Special Cell of Delhi Police to illegally curtail her liberty upon her release in bail in case of FIR no 48/2020 PS Jaffrabad. Zargar was 21 weeks pregnant, and under a threat of COVID-19 pandemic when she was thrown behind the bars in an unhygienic jail from which hardcore convicted criminals like Manu Sharma are released due to the raging fury of the pandemic. For a pregnant woman, the risk increases manifold. The investigating machinery has "found" incriminating material from WhatsApp chats!
What were the materials have not been revealed in the order. Neither the implicating materials found at Khajoori Khas site could connect to her activity directly. What is interesting is the materials that could be threatening were two red plastic crates containing glass bottles, some filled with liquid and some empty and necks stuffed with clothes, one red plastic crate containing bricks and stones. There was neither any CCTV visual nor any witness to prove this fabricated 'incrimination'.
The bail denial order shows Zargar was a part of a larger conspiracy to disrupt law and order to destabilise the government's machinery. How an unarmed woman can overawe a government equipped with AK-47 rifles? The order further said it was 'disaffection against India', which Zargar was spreading. It was further said that the judge was afraid that the contention regarding the impermissibility of registration of the second FIR would also not help the cause of the applicant.
It was submitted that Hon'ble Supreme Court, in the matter of Kedar Nath v State of Bihar, AIR 1962 SC  955, has elaborately dealt with the term "disaffection" and has categorically observed that to bring any act within the mischief of sedition, there must be material to show that the act is of such nature that it would or tend to create disorder or violence at public space. It's submitted that violence constitutes the gravamen of charge for unlawful activity.
I quote here the judge, "I concur with the Ld Addl PP that at this stage the court is not required to test the merits of the prosecution case. I am not discussing in detail the particulars of the prosecution witnesses so as not to unnecessarily' prejudice the ongoing investigation and the safety and the security of the witnesses is also one of my primary concerns. However from the statement u/s 161 and 164 CrPC coupled with the WhatsApp chat available with the record, it can be safely inferred that there is prima facie evidence to show that there was a conspiracy to at least blockade the roads (chakka jam). As per the provisions of section 339 of the Indian Penal Code, causing wrongful restraint to even a single individual is a penal offence. Section 141 Clause 3 provides that any assembly of five or more persons is designated at unlawful if its common object to commit any offence." (sic)
How a state can be so charitable to the witnesses and worried for their security while its inhuman character is evident from its repeated acts of repression and atrocities against the marginalised? In numerous important cases of political prisoners, the state leaves the witnesses to die. Then why suddenly it's desperate for their safety? For how much cash did the state purchase the witnesses? How come a woman of merit, who could alert the state this much, did not keep such 'incriminating' chat safe? Isn't it quite unreasoned? If road blockade becomes an act of a larger conspiracy then what about the Hindutva fascist armed rallies?
How come an assembly be as easily defined as unlawful when unarmed Indians were there against Modi's and the BJP-RSS's criminal conspiracies that could snatch the right to live from millions of poor people, especially ostracised dalits, tribals and minority Muslims? Every responsible citizen should dissent against the plan of internally and externally displaced people. In expressing her dissent against the nefarious agenda of the government, Zargar and others did no wrong. But by denying bail to a pregnant woman, by denying her dignity and by treating her as a terror convict with sheer Islamophobic prejudice, the Indian state under the BJP-RSS is showing the audacity to officially "other" the Muslim community, now legally, in its land. This won't end dissent but add new dimensions to it and make it mammoth in the days to come.
Dhrupadi Ghosh is a PhD student of Department of Sociology, Jamia Millia Islamia. She is a sculptor, an artist who use art to exhibit dissent brewing in the society. She writes on campus, gender, caste, communalism and class politics.