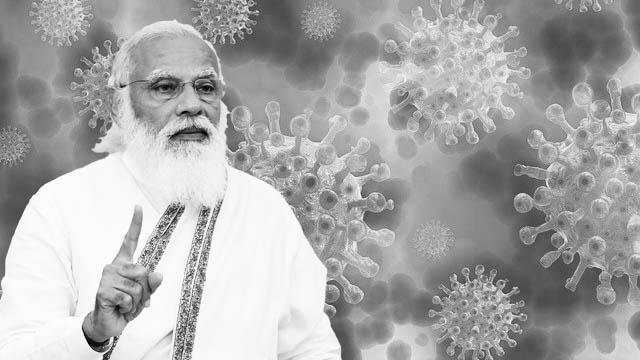 COVID-19 cases in West Bengal: Why Modi-Shah don't care?
Reading Time:
3
minutes
The COVID-19 situation in India is alarming. As India regains the second position in the world in terms of the number of cumulative cases, on Wednesday, April 14th 2021, there were 184,372 new cases detected and 1,027 new deaths due to virus-related health issues. However, despite this alarming situation, Prime Minister Narendra Modi and Union Home Minister Amit Shah are continuing their hyper-local campaigning in the lanes and bylanes of West Bengal in a desperate bid to win the ongoing polls. The COVID-19 cases in West Bengal are comparatively low at present, with 4,819 new cases added on Wednesday and 20 fatalities, but it's all set to increase after the elections are over.
Despite criticism, the Bharatiya Janata Party (BJP) is ignoring all health guidelines and even contradicting what Modi and Shah preach in Delhi and other states, by organising rallies with thousands of people ignoring social distancing norms and even without masks. Though incumbent Chief Minister Mamata Bandopadhyay's Trinamool Congress (TMC) is also organising similar rallies, they are less than the intensity with which the BJP is trying to utilise its maiden opportunity to seize the state. The COVID-19 cases are, so far, conspicuously low in West Bengal vis-à-vis other states despite such violations of social distancing norms and public gatherings organised by Modi and Shah, as the BJP wants to undermine the health threat until the elections are over on April 29th.
While a Delhi High Court order states that a private car is a public place and one must wear a mask even when alone in the car, Modi, Shah and other BJP leaders and their activists are blatantly violating the bare minimum COVID-19 rules of wearing a mask in public. The Election Commission remains nonchalant and no one is even booked by the government for such gross negligence of public health guidelines. Can the Modi regime, which controls the Delhi Police, then clarify why the people of the national capital are penalised when they are found without masks in public places?
When the BJP is promising to build a "Sonar Bangla" (Golden Bengal) and revamp the state's dilapidated healthcare sector, the icon of its development model, Gujarat, is failing to accommodate even all dead bodies in its crematoriums, forcing people to carry out last rites at open spaces, adding to the health hazard. There have been 6,690 new cases in Gujarat on Wednesday, with 67 deaths. In Uttar Pradesh, where Chief Minister Yogi Adityanath, a rabble-rouser Hindutva fanatic who campaigned throughout West Bengal, has tested COVID positive, 17,963 cases were reported on Wednesday with 85 deaths.
Despite these numbers showing the aggravation of the crisis, which the Modi regime is using to help big pharma companies market their vaccines and to curb people's rights, there is no visible attempt taken by the BJP to show concern for public health in West Bengal. Through their intense campaigning, the BJP and Modi-Shah clique are exhibiting that there is no real threat posed by the COVID-19 virus. Rather, it's the public health system that's killing people throughout India as it fails to treat the large number of patients getting infected with the flu. With world-class healthcare support ready to treat them, the BJP stalwarts have no fear, but their callous attitude will kill thousands in West Bengal.
In case the BJP wins the election, it will show the rising number of COVID-19 cases in West Bengal to suspend people's rights and impose a lockdown that will hamper the livelihood of the poor. This will provide the BJP with an opportunity to carry out its agendas of turning the state into a citadel of corporate exploitation of oil, natural gases and coal, without facing public fury. It will also be able to communalise the COVID-19 cases in West Bengal, blaming the Muslims and thereby impose restrictions on Ramzan prayers and the celebration of Eid in mid-May 2021. This will prove its communal vindictiveness as the BJP remains nonchalant about the rising cases of COVID-19 due to the Kumbh in Haridwar.
If Bandopadhyay's TMC manages to retain power through any miracle, then the rising number of COVID-19 cases in West Bengal will be blamed on her inability to handle the situation. Bandopadhyay will face the challenge to handle the COVID-19 cases with a dilapidated public healthcare system and a furious Modi regime will then be able to show its apathy towards West Bengal by denying it medicines and vaccines, as it has been doing to Maharashtra to topple Uddhav Thackeray's government. The COVID-19 cases in West Bengal will then see an incessant rise, and the Muslims will be blamed by Modi's servile media for aggravating the situation and Bandopadhyay will be accused of "appeasing" her vote bank.
This situation has posed a serious challenge before the people of West Bengal. Whether they elect the BJP or the TMC, it's their turn to suffer from the forthcoming health crisis. With the end of elections and with a steep rise of COVID-19 cases in West Bengal, there will be little left for the people. To stop this catastrophe, it's now important for progressive, democratic and anti-fascist forces to unite and raise mass awareness regarding the BJP's obnoxious agenda and its plan to throw West Bengal under the bus. Unless a people's resistance forces the BJP to retreat, there will be nothing to stop the state's destruction.
An avid reader and a merciless political analyst. When not writing then either reading something, debating something or sipping espresso with a dash of cream. Street photographer. Tweets as @la_muckraker