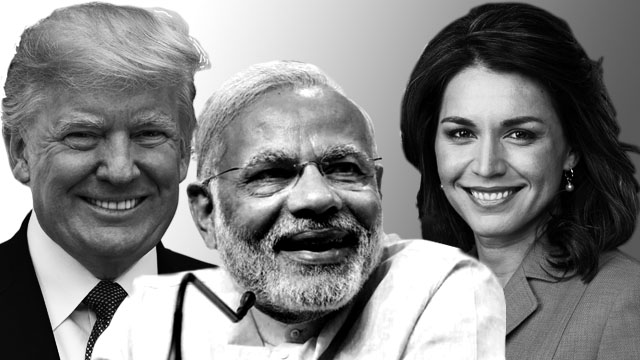 Howdy Modi polarised US politicians and exposed crypto-fascists like Tulsi Gabbard
Reading Time:
7
minutes
Indian Prime Minister Narendra Modi's visit to Houston, Texas, where his followers are organising a mega-event called Howdy Modi on Sunday, 22 September 2019, is a watershed moment in present-day Indo-US relationship. American President Donald Trump will personally participate in the event to show his support for Modi, many other Texas politicians will also show up.
Aligning with Modi is a lucrative deal for US politicians, who represent the interests of various big corporations. Modi is India's salesman, selling off its resources, mineral reserves, water, land and forests, along with cheap labour to global corporate giants. He is the darling for the US, which is ruled by the ultra-reactionary imperialists under Trump. However, Modi has caused uneasiness in the US establishment, and for the first time in years, a political split has taken place in the mainstream American politics over India.
While some politicians are eager to show their support for Modi, to ensure that the corporate houses that own them get a fair chance to plunder India, many would try to maintain a safe distance from the man. As an unprecedented economic crisis has gripped India and Modi's utmost economic mismanagement has become evident, the euphoria around brand Modi, which was visible in 2014-15, is no more intense or appealing. Hence, a large section of American politicians will choose some or other pretext to stay aloof or show indifference. 
Then, there is the list of Modi crimes that a large number of protesters from all over Texas, who are coming down to Houston on 22 September, will showcase. This will add to the woes of the politicians trying to give a bear hug to Modi.
On 5 August 2019, the Modi regime abrogated two crucial articles — Article 370 and Article 35A — of the Indian Constitution that formed the basis of India's special relationship with the United Nations (UN)-recognised disputed territory of Jammu & Kashmir. It officially annexed the Indian-administered part of Jammu & Kashmir and bifurcated it. This is in blatant violation of earlier UN resolutions on Kashmir, where India promised to hold a plebiscite to allow Kashmiris to decide whether they want to stay with India, merge with Pakistan or go independent. 
For years the Kashmiri people have been waging a relentless struggle for their right to self-determination that India vehemently denies. Modi and his Bharatiya Janata Party (BJP), wants to change the demography of Jammu & Kashmir by following the Zionist Israeli settlement-colonisation policy and turn the Muslims into a minority in the region. India needs Kashmir for its geopolitical ambitions, military supremacy against China and Pakistan, and to control the source of water flowing into India and Pakistan. 
The people of the region were locked inside their houses by the military and paramilitary forces, their internet, phone, mobile and cable television connections have been snapped to render them incommunicado, and all politicians, activists and people with an ability to influence others jailed, when the decision was taken by Modi's close aide Amit Shah, the infamous home minister.
Though partial normalcy is restored in parts of the Hindu-majority Jammu and Buddhist-majority Ladakh, the latter now a different territory directly ruled by New Delhi, Kashmir is still besieged, its people are forced to live under the jackboots of the armed forces, life is at standstill and for more than 45 days, the people remain incommunicado. 
Along with this gross violation of human rights comes the military atrocities. People are randomly attacked by the Indian forces with pellets, which causes grave and, at times, fatal injuries. Torturing of civilians continues with impunity, as the soldiers are covered under a draconian Armed Forces (Special Power) Act, which provides them legal immunity and allows them a vast scope to violate human rights and persecute the local people.
Reports show that children, as young as 10, are picked up by the forces and sent to unknown locations, away from their parents. They are not spared the brutal torture that has become the Indian forces' weapon to traumatise and mentally colonise the indomitable Kashmiri people who have been vociferously seeking independence from India since the last 72 years.
Women of Kashmir, about whom the Hindutva fascist followers of Modi and the BJP have been drooling and sharing lustful fantasies, suffer the most under this blockade. They are sexually harassed and tortured by the Indian forces, who are infamous for sexual violence against Kashmiri women in the past.
Under such circumstances, very few American politicians criticised the Modi regime for such gross human rights abuse, even when there is no strong party whip that holds them back. Those who did actually brought a gush of fresh air in the monotonous narrative about India in the US political circles. 
In a letter addressed to Trump, Senators Chris Van Hollen, Todd Young, Ben Cardin and Lindsay Graham said, "With each passing day, the situation for the people of Kashmir becomes increasingly difficult."
"Therefore, we ask that you call upon Prime Minister Modi to fully restore telecommunications and internet services, lift the lockdown and curfew, and release Kashmiris detained pursuant to India's revocation of Article 370," their letter said. 
Congressman Ro Khanna, who has been dilly-dallying on the question of Kashmir and Hindutva fascism, which is the ideology of the BJP and its parent body the Rashtriya Swayamsevak Sangh (RSS), later took a definite stand against Hindutva, while upholding the general religious values of Hinduism. 
Congresswoman Rashida Tlaib, Representative for Michigan's 13th congressional district, condemned the abrogation of Article 370 and Article 35A by the Modi regime and its imposition of a martial rule on the people of Jammu & Kashmir. 
She said in a statement:
"These unacceptable actions strip Kashmiris of their human dignity, put millions of people in danger, and seriously undermine democracy in India and Kashmir.  People should not have to fear unjust detention, rape, or torture because of who they are and what they believe. I have met with residents in Michigan who cannot even call their families in Kashmir to ensure they are safe – a truly unimaginable situation as violence, militarization, and occupation continues.  Jammu and Kashmir is already one of the most militarized regions on Earth, and India's recent actions create more instability and heighten the potential for accelerating violence." (sic)

https://tlaib.house.gov/media/press-releases/rep-tlaib-statement-situation-jammu-and-kashmir
Rep Ilhan Omar, a Minnesota Democrat, also criticised the actions taken by India in Kashmir and demanded de-escalation of tension in the valley by restoring normalcy and human rights. 
Omar, along with Reps Raúl M Grijalva, Andy Levin, James P McGovern, Ted Lieu, Alan Lowenthal and Donald S Beyer wrote a letter to the US ambassadors in India and Pakistan, raising six points of demand, which are:
Facilitate connections between Kashmiri-Americans and their family members in Jammu and Kashmir.
Insist that the Indian government immediately restore communications in Jammu and Kashmir and allow press to access the region.
Strongly urge Indian authorities to release the people they have arbitrarily detained.
Provide assistance with documentation on allegations of human rights abuses in both Indian- and Pakistani-controlled Kashmir and urge the Indian and Pakistani governments to allow independent, impartial investigations. 
Deescalate the tensions between India and Pakistan.
Emphasize the centrality of Kashmiri voices in determining the future of Jammu and Kashmir.
(sic)
The strongest of all condemnation came from Bernie Sanders, the Democrat aspirant for 2020 presidential poll.
Sanders unequivocally demanded that the world must respect the will of the Kashmiri people and the reign of terror on them, which is causing a grave humanitarian crisis, must immediately end.
While these were those opposing Modi's sinister gambling over Kashmir, he and the Hindutva fascist camp continued to receive the unapologetic support from Rep Tulsi Gabbard, who is aspiring to be the Democrat candidate for 2020. 
Rep Gabbard has been an ardent fan of Modi and a subscriber of the Hindutva fascist ideology preached by the Hindu Swayamsevak Sangh (HSS) — the international wing of the RSS — and is a lobbyist working in the power corridors of Washington DC since years, trying to project the obnoxious agenda of the saffron camp in the brightest shades. She also doubles as a broker between Hindutva fascism and Zionist terrorism, working as a self-styled Hindu advocate for both and supporting the atrocities committed by both regimes from her inherent Islamophobia. 
Gabbard wanted to be a part of the Howdy Modi event and use the platform to woo the reactionary, upper-caste Hindu, Indian-American voters. She already has a large influence on the utmost reactionary Brahminical supremacists, caste apologists, and Hindutva fascist followers of the HSS and other RSS affiliates in the US, still she had to back-off as Trump outwitted her in hijacking the show. 
Sharing stage at this point in time with Trump will be a political harakiri for Gabbard, who is projecting herself as the "anti-establishment" and "progressive" candidate to dupe the vast majority of American anti-war, and anti-imperialist voters. Thus, she excused herself, while first apologising to Modi and then by welcoming him to the US.
However, it was Gabbard who played a crucial role in lobbying in the White House during the last leg of president Barack Obama's reign to get the travel ban on Modi lifted. Due to Modi's complicity in the macabre Gujarat pogrom of 2002, the George W Bush administration imposed a ban on his entry to the US under a little-known 1998 law that prohibited the visa to government officials accused of religious violence. Modi was the only foreign politician to have faced the ban under this act, even though the BJP remained a close ally of the Bush administration for years. 
Rep Gabbard and her Hindutva fascist allies lobbied for Modi's entry and Obama lifted the ban in 2013, at the eve of Modi's rise to power.
Gabbard has been promoting herself as a "progressive" and "anti-war" candidate to usurp the anti-establishment space in the US elections. She is projecting herself as a rebel, when in reality, due to her present standpoint, her nefarious nexus with Hindutva fascism, her past crimes and her hypocrisy, she is nothing more than a crypto-fascist trying hard to fit in an image, which is unfitting for her. 
The Howdy Modi event will see the participation of a large number of protesters demanding the ouster of Modi from the US and will raise the slogan "Adios Modi". Except for a handful of reactionary, upper-caste Hindu Indian-Americans, and the white-supremacist thugs, no sensible people of the US are supporting Modi and his visit to Houston. 
A coalition of Indian-Americans, the Alliance for Justice and Accountability (AJA), has announced a massive protest in Houston against Modi. A large number of Indian-Americans will participate in the AJA, which will be ignored by the mainstream press but will show that the entire Indian-American diaspora isn't behind Modi, but against him and Trump. 
TheWire.in quoted the AJA saying:
"We are a bona fide group of Indian Americans with roots in India, and not connected with any other nationality or separatist causes," the AJA said in a statement. "We have one and only one agenda: to expose the undemocratic, anti-people and anti-minorities agenda of Mr. Modi's government and BJP party." (sic)

https://thewire.in/world/indian-american-coalition-to-protest-narendra-modis-houston-event
The Adios Modi campaign at the heartland of Texas, the opposition from several Congressmen and Congresswomen, the massive people's resentment over Kashmir, will ensure that Modi fails in his mission to captivate the popular imagination of the US, like in 2014, despite the Trump regime rolling out the red carpet for him. 
The massive opposition against the Hindutva fascist forces and Modi's Howdy Modi event will also expose those who stand with fascism and those who oppose it vehemently. At the end of the day, the Howdy Modi event will help the American people and its various diasporas to see who all are ardent followers of fascism and racism, and who all are honestly resisting such forces with consistency.
An avid reader and a merciless political analyst. When not writing then either reading something, debating something or sipping espresso with a dash of cream. Street photographer. Tweets as @la_muckraker